Подача статей





№ 1 2002

Humanitarian sciences
N.S. Sakharova
LANGUAGE SYSTEM AS PEDAGOGICAL INTERACTIONOBJECT AND COGNITIVE ELEMENT OF STUDENTS'FOREIGN LANGUAGE COMPETENCE
L.Y. Savva
FORMING THE INTERPERSONAL TEACHER'S COGNITIONIN THE PEDAGOGICAL ESTABLISHMENT TECHNOLOGICALASPECT .
S.A. Tsytsura
BUILDING THE MODEL OF LINGUIST-STUDENTS'LEARNING NON-VERBAL COMMUNICATION
V.V. Voronin, J.A. Gerasimova
PROBLEMS OF ANTI-DRUG STRUGGLING IN THE LIGHTOF BUILDING A LEGAL STATE
A.N. Ivanov
ALKUIN - A TEACHER: THE SOURCE OF PHILOSOPHYOF EDUCATION AND ANTHROPOLOGY V.L. DRYNDINTHE ECONOMIC GROUNDS FOR KHRUSHCHYOV'SREFORMS.
O.G. Brilliantova
THE SOVIET GOVERNMENT'S ACTIVITIES IN THE SPHEREOF PEASANTS TAXATION AS A SOURCE OF THE COUNTRY'SBUDGET REPLENICHMENT IN 1920-S .
A.I. Goloshchapova
ECONOMIC ORGANIZATION OF RUSSIA AT RETROSPECTIVELOOK .
I.M. Duranov
CIVIC DUTY AND PATRIOTISM TRAINING CORRELATION .
Yu.P. Zlobin, S.V. Lyubichankovsky
PROPRIETY OF APPLICATION OF THE CONCEPTION"GOVERNOR'S AUTHORITY" IN BODIES HISTORICALINVESTIGATION OF RUSSIAN EMPIRE ADMINISTRATION .
V.A. Bondarenko, V.A. Krasilnikova, I.D. Belonovskaya,Zh.G. Piskunova
ELABORATION OF ORENBURG REGIONAL INTEGRATEDEDUCATIONAL MEDIUM MODEL .
V.P. Erunov
PRACTICAL REALIZATION OF LEARNING PROCESSSYSTEM-CRITERION ANALYSIS
Economic sciences
M.G. Lapaeva, V.L. Nefyedov
REGIONAL STATE HOLDING AS A MECHANISMOF STATE PROPERTY MANAGEMENT .
F.Z. Aralbaeva, I.V. Maximova
NECESSITY OF INTRAFIRM PLANNING AT INDUSTRIALENTERPRISE .
Y.B. Ivanov, S.A. Muskabaeva
ECONOMICAL ESSENCE OF INNOVATIONAL BUSINESSACTIVITY
Natural sciences
A.M. Rusanov, Y.U. Blohin, N.N. Zenina, E.A. Milyakova
RESULTS OF ORENBURG REGION SOIL POLLUTIONWITH HEAVE METALS AND RADIOACTIVE ELEMENTS .
V.A. Nemkov, V.O. Kozminyh, E.V. Sapiga
NECROBIONT TOUGHWINGED FAUNA AND IT'SCHANGING IN "ORENBURGSKIY" RESERVE .
A.P. Vasiljev
HEAT EXCHANGE IN LAMINARY I LOW ON UNSTABILIZEDCURRENT SIZE IN ROUNDSYLINDRIC PIPE.
Technical sciences
V.N. Tarasov
TO THE QUESTION OF KOLMOGOROV'S EQUATIONUNIQUE SOLUTION
O.N. Rjabinina
REFRACTORY AND HEAT-RESISTANT METALS' INTERACTIONWITH METAL ROWDER IN ELECTRO CHARGING SINTERINGPROCESS
I.M. Kiyanov
FARMS GEOMETRY OPTIMAL PARAMETRES WITHCONSTANT BAR .
O.M. Orlov
PROFESSIONAL COMMUNICATIVE COMPETENCEOF A FUTURE SPECIALIST .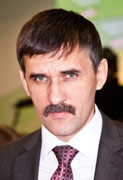 Editor-in-chief
Sergey Aleksandrovich
MIROSHNIKOV