Подача статей





Velmovskiy P.V., Chibilyov A.A., Levykin S.V., Kazachkov G.V., Chibilyov A.A. (jr), Yakovlev I.G., Grudinin D.A.
ON THE HISTORY OF A FOREST MELIORATION FRAMEWORK DEVELOPMENT IN ORENBURG STATE
One of the primary problem ofsteppe use optimization and stable agro-landscapes development is formation and support of a forest melioration framework in the steppe region. Today, by virtue of a line of social-economical and agro-ecological problems systems of forest cultures developed before loses their agro-ecological functions, their breakup and collapse happen due to agro-lands demands reduction and fires acceleration. In this connection a development of a new concept of a forest melioration framework suitable for current condition and modern steppe science achievement is extremely topical and urgent. To develop a modern concept of a forest melioration framework is necessary to research spreading and dynamics of forest plantations as well as historical experience of steppe forest melioration. Using historical methods is revealed that before forest vegetation was represented more wide lyandvarious on the territory of modern Orenburgskaya oblast, especially on Common Syrt and in the Pre-Ural region, e. g. Siberian larch from the north reaches to in latitude 53°. Periodization of forest melioration with separation of three stages was developed in Orenburgskaya oblast. Herewith, the first stage fell on the middle of 1930s, but the main activity to develop a forest melioration was made during 1948–1953 in the frame of a rapid implementation of A Council of Ministers Resolution USSR and the Central Committee of C.P.S.U. (b) of 20.10.1948 № 3960. A scale of forest cultural activity and main objects, including a state forest belt "Vishnevaya mountain  — the Caspian sea" is shown. A short characteristic of forest fund in Orenburgskaya oblast and a dynamics of reafforestation during 1980–2013 are given in the paper. A formation history of elements of a forest melioration framework and forest-cultural complexes in Orenburgskaya oblast show that a scaled work were made on the initiative and with support of the state government. Today, with an importance of the state support the necessary successful term is land users interest and ecological-economic reasonability of developed plantations taking into account achievement and guidelines of modern steppe science.
Key words:
forest melioration framework, grassland agriculture, Stalin's plan for nature transformation (the), reafforestation dynamics, percentage of forest land.
References:
1. BobrovR.V. TheTalksaboutforests.  — Moscow: MolodayaGvardiya, 1979.  — 240 pp.
2. Borodin N.A. The description of cultural, economical, political and social life of American society and America / Edited by GolubevA.V., OsipovaN.I.  — Uralsk, 2011.  — 496 pp.
3. VilenskiyD.G. The Dokuchayev-Kostychev-Williams theory of soil and its fertility.  — Moscow: USSR society for political and scientific knowledge propagation, 1949.  — 30 pp.
4. VladyshevskiyD.V. In the world of birds.  — Novosibirsk: "Nauka", Siberian branch, 1982.  — 157 pp.
5. DokuchayevV.V. Selectedworks.  — Moscow: USSR Academy of Sciences, 1949.  — 643 pp.
6. Keppen F. The geographical distribution of conifers in European Russia and Caucasus.  — S-Petersburg: Imperial Academy of Sciences, 1885.  — 634 pp.
7. Krupennikov I & L. Travels and expeditions by V.V. Dokuchayev.  — Moscow: State publishing house for geographical literature, 1949.  — 127 pp.
8. KulikK.N. The Agrarian forest amelioration of the arid zone of Russia // Forest amelioration and adaptive developing of arid territories. Materials of Russian scientific and practical conference "The century-old experience and prospects of Agrarian forest amelioration of arid landscapes in the south of Russian Federation (to the 50-th anniversary of Achikulak research forest experiment station). (Neftekumsk, 19-21. September 2000).  — Volgograd: Administration of Stavropolskiykrai, Achikulak research forest experiment station, 2000.  — P.13-14.
9. LevykinS.V., KazachkovG.V. Ecological geographical and political problems and prospects in steppe reconstruction with the example of Orenburgskaya oblast // Materials of international scientific and practical conference "Regulations of steppe nature areas of preferential protection" to 130-th anniversary of V.V. Alekhine. Kursk, 15-18. January 2012.  — Kursk, TheCentral black earth state reserve named after professor V. Alekhine, 2012.  — P. 95-99.
10. Orenburg region forests.  — Orenburg: Orenburg publishing house, 2000.  — 244 pp.
11. MilkovF.N. From Vishnyovaya mount to Caspian sea (geographical studies).  — Chkalov: Chkalovskoye publishing house, 1950.  — 64 pp.
12. RegionsofRussia. Social-economicindices. 2014: P32Statisticalcollection.  — M.: Rosstat, 2014.  — P.388.
13. RekhenbergA.A. The statistical description of forested space between Ural and VostochniyIk rivers // Notes of Imperial Russian Geographical Society, vol.4 edited by A.I. Popov.  — S-Petersburg: 2-nd department of His Imperial Majesty Chancellery, 1852.  — P.383-502.
14. The desk book for a kolkhoz head. / Edited by I.M.Ichteiman.  — Moscow: Selkhozgiz, 1941.  — 608 pp.
15. Khisamutdinova R.R. The implementation of the "Stalin's plan of the nature transformation" in Chkalovskaya oblast. // The history of agrarian interrelations in Russia. Materials of interuniversity scientific and practical conference.  — Orenburg: DIMUR publishing house, 1998.  — P. 228-234.
About this article
Authors:

Chibilyov A.A. (ml.), Velmovskiy P.V., Chibilyov A.A., Levykin S.V., Kazachkov G.V., Yakovlev I.G., Grudinin D.A.



Year:

2015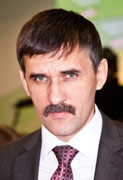 Editor-in-chief
Sergey Aleksandrovich
MIROSHNIKOV