Подача статей





Levykin S.V., Nurushev M.Zh., Kazachkov G.V., Yakovlev I.G., Grudinin D.A.
SPECIFICS, PROBLEMS AND PROSPECTS OF STEPPE LANDSCAPE AND BIOLOGICAL DIVERSITY SELF-RESTORATION ON THE TERRITORY UNDERGONE THE VIRGIN LAND CAMPAIGN IN ZAVOLZHYE-URALS ECOREGION [№ 11 ' 2017]
The main results of research into the territory undergone the virgin land campaign in Zavolzhye-Urals ecoregion on the theme of title steppe species reaction on plough use sharp termination in large scale of square are given. It is ascertained that pennata and lessingiana feather grasses under conditions of 10 years long plough pause and seed base existence form a dense clump, that functions as a phytobase of secondary steppe ecosystem directing fallow land succession to secondary steppe and promoting restoration steppe species, especially title ones. Amid such ones we accentuate marmot and little bustard showing properties of aggressive intruder, which pioneer fallow lands simultaneously with feather grasses. Great bustard and saiga didn't show such properties. Other species return on fallow lands in dependence on local conditions and factors. Within the region under research, about 300 thou ha secondary steppes are found, mainly in Kazakhstan. Earlier ascertained factors promoting plough pause and factors promoting fallow lands mass reploughing up even in chestnut soil subzone, first of all suitability for modern technologies, are refined. It is observed that the main arrays of the most technologically suitable fallow lands in the Northern and the Western Kazakhstan are virtually completely reploughed up, and one of the last refuge of fallow lands, including expanding ones, is saved in Preduralia where terrain is rugged. For such refuges we propose the principal scheme of fallow land selection aimed at forming and saving secondary steppes, and virtually no cost nature simulating technology of self-restoration. The series of proposals aimed at secondary steppes saving and rational use, including the "Orenburgskaya Tarpania" project further development, is given.
Velmovskiy P.V., Chibilyov A.A., Levykin S.V., Kazachkov G.V., Chibilyov A.A. (jr), Yakovlev I.G., Grudinin D.A.
ON THE HISTORY OF A FOREST MELIORATION FRAMEWORK DEVELOPMENT IN ORENBURG STATE [№ 13 ' 2015]
One of the primary problem ofsteppe use optimization and stable agro-landscapes development is formation and support of a forest melioration framework in the steppe region. Today, by virtue of a line of social-economical and agro-ecological problems systems of forest cultures developed before loses their agro-ecological functions, their breakup and collapse happen due to agro-lands demands reduction and fires acceleration. In this connection a development of a new concept of a forest melioration framework suitable for current condition and modern steppe science achievement is extremely topical and urgent. To develop a modern concept of a forest melioration framework is necessary to research spreading and dynamics of forest plantations as well as historical experience of steppe forest melioration. Using historical methods is revealed that before forest vegetation was represented more wide lyandvarious on the territory of modern Orenburgskaya oblast, especially on Common Syrt and in the Pre-Ural region, e. g. Siberian larch from the north reaches to in latitude 53°. Periodization of forest melioration with separation of three stages was developed in Orenburgskaya oblast. Herewith, the first stage fell on the middle of 1930s, but the main activity to develop a forest melioration was made during 1948–1953 in the frame of a rapid implementation of A Council of Ministers Resolution USSR and the Central Committee of C.P.S.U. (b) of 20.10.1948 № 3960. A scale of forest cultural activity and main objects, including a state forest belt "Vishnevaya mountain  — the Caspian sea" is shown. A short characteristic of forest fund in Orenburgskaya oblast and a dynamics of reafforestation during 1980–2013 are given in the paper. A formation history of elements of a forest melioration framework and forest-cultural complexes in Orenburgskaya oblast show that a scaled work were made on the initiative and with support of the state government. Today, with an importance of the state support the necessary successful term is land users interest and ecological-economic reasonability of developed plantations taking into account achievement and guidelines of modern steppe science.
Kazachkov G.V., Levykin S.V., Petrischev V.P., Yakovlev I.G., Grudinin D.A.
ECOLOGICAL AND ECONOMICAL THRESHOLD OF ARABILITY FOR STEPPE AGRARIAN LANDS [№ 10 ' 2015]
The tools of steppe agrarian landscape optimizing based upon the converting ploughland biopotential productivity unit into the term of money with cash flow discounting is developed. The ecological and economical threshold of arability for steppe agrarian lands is found.
Levykin S.V., Kazachkov G.V., Yakovlev I.G., Grudinin D.A.
THE NEW ASSESSMENT OF THE TSELINA VIRGIN LANDS CAMPAIGN FROM THE STANDPOINT OF STEPPE SCIENCE [№ 10 ' 2015]
The new interpretation of cradle, specific features, periodization and assessment evolution of the Tselina virgin lands campaign is given. The new and original approach considering Tselina as a tool of steppe renovation is proposed on the grounds of studies on secondary steppes and the constructive model of steppe.
Levykin S.V., Kazachkov G.V., Yakovlev I.G., Grudinin D.A.
THE PROPOSALS ON THE CONSERVATION OF LANDSCAPE AND BIOLOGICAL DIVERSITY OF STEPPES IN THE TRANSFRONTIER ZONE OF ORENBURG REGION OF RUSSIA AND AKTYUBINSK REGION OF KAZAKHSTAN [№ 10 ' 2013]
The moratorium on the reploughing up of low productive lands, where secondary steppes restore itself, and the adaptive livestock raising development could be a substantial contribution to the conservation of landscape and biological diversity of steppe ecosystems. The position of such land plots adjacently to the Russia-Kazakhstan frontier makes this region holding much promise for a transfrontier steppe NAPP system when it is formed.
Rusanov A.M., Savin E.Z., Nigmatyanova S.E., Nigmatyanov M.M., Grudinin D.A., Stepanova M.A.
HEAVY METAL CONTENT OF APPLE FRUITS IN URBAN ENVIRONMENTS [№ 1 ' 2011]
Fruit trees are widely used in greening settlements. The increasing pollution of industrial emissions, traffic flow lead to environmental pollution and the accumulation of heavy metals in soil, leaves, wood and fruits. We found marked selectivity of certain forms of apple trees to heavy metals, a significant excess of the maximum permissible concentration.
Brudastov Yu.А., Zhurlov О.S., Kolinichenko Е.V., Grudinin D.А.
ACTIVE OXYGEN METABOLITES IN THE PHAGOCYTOSIS [№ 12 ' 2008]
The work provides up-to-date data on the role of active oxygen metabolites in the phagocytosis. Special authors' attention is given to the sequence of the activation of the oxygen-dependent mechanisms in the phagocytes and comparative effectiveness of the bactericidal action implemented by most significant oxygen radicals.
Zhurlov О.S., Kolinichenko Е.V., Grudinin D.А., Brudastov Yu. A.
RESISTANCE OF MICROORGANISMS TO SUPEROXIDANION, NITROGEN OXIDE AND PEROXINITRITE AS A FACTOR OF THEIR SURVIVAL IN THE PHAGOCYTOSIS [№ 12 ' 2008]
Through using 23 cultures of the Escherichia coli and 23 cultures of Staphylococcus aureus, with different levels of resistance to the active forms of oxygen gas (AFO; superoxidanion, nitrogen oxide and peroxinitrite), the study determined parameters for variability of the bactericidal action implemented by the human blood neutrophils under standard phagocytosis conditions in vitro. On this basis a comparative study was undertaken to assess the contribution from the bacteria ferments-antioxidants and their resistance to AFO in the process of survival under phagocytosis.
Bachurskaya N.S., Grudinin D.A., Ishmukhamitova Z.A., Brudastov Yu.A.
MODERN PROBLEMS OF BIOLOGY OF MALASSEZIA GENUS FUNGI [№ 12 ' 2007]
The review of modern literature about biology of conditional-pathogenic fungi of malassezia genus is given in this work. The questions of ecology, physiology, biochemistry, taxonomy of these fungi are regarded and mycosis associated with representatives of malassezia genus is characterized here.
Deryabin D.G., Grudinin D.A., Karimov I.F.
BASING OF OPTIMAL REGIME OF RECOMBINANT LUMINESCENT BACTERIA'S OPSONIZATION [№ 12 ' 2006]
Optimal procedure of recombinant strain Escherichia coli K12 having luxCDABE gene P.leiognathi with using of normal human immunoglobulin in contrast to other potential opsonines (intact and thermoinactivated blood serum, complement) not giving bactericidal effect and minimal changed level of its initial bioluminescence concerning this microorganism is based in this article. It is shown that recombinant strains E.coli opsonizated with given way cause dose-dependent stimulation of luminol-dependent chemiluminescence of neutrophilic phagocytes but at the same contact themselves demonstrate progressive decrease of bioluminescence level the nature of which is determined admittedly with absorption and intracellular killing of bacterial cells.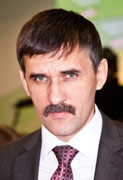 Editor-in-chief
Sergey Aleksandrovich
MIROSHNIKOV