Подача статей





Kazachkov G.V., Levykin S.V., Petrischev V.P., Yakovlev I.G., Grudinin D.A.
ECOLOGICAL AND ECONOMICAL THRESHOLD OF ARABILITY FOR STEPPE AGRARIAN LANDS
The tools of steppe agrarian landscape optimizing based upon the converting ploughland biopotential productivity unit into the term of money with cash flow discounting is developed. The ecological and economical threshold of arability for steppe agrarian lands is found.
Key words:
steppe agrarian landscape optimizing, soil and ecological index, income approach, steppe flatland, biopotential productivity, crop farming, threshold value, "meat belt".
References:
1. Alakoz V.V. The organization of an optimal agrarian land use // Zemleustroistvo, kadastr i monitoring zemel. — 2014. — December. — Pp. 5-17.
2. The land: how to value the invaluable. Methodical approaches to the economic valuation of the steppe zone land resource biopotential / S.V. Levykin, R.Sh. Akhmetov, V.P. Petrischev, et al.; general edition by S.V. Levykin; Orenburgskaya oblast fund "Orenburg Steppes Restoration" — Novosibirsk: Siberian ecological center, 2005. — 170 p.
3. Karmanov I.I., Bulgakov D.S. Methods of soil and agroclimatic appraisal of arable lands for a cadastre. — Moscow: V.V. Dokuchaev's Soil Institute & APR, 2012. — 122 p.
4. On the adoption of land plot permitted use classifier / Order by RF Ministry of economic development and trade of 1.09.2014 #540, appendix.
5. Valuation of a business / Edited by A.G. Gryaznova, M.A. Fedotova. — Moscow: Finansy i statistica, 2001. — 512 p.
6. Tikhonov V.E. Drought in the steppe zone in Urals / V.E. Tikhonov. — Orenburg, Open Company "Agentstvo "Pressa", 2005. — 346 p.
7. Chibilyov A.A., Levykin S.V., Kazachkov G.V. Agrarian and conservational promises by steppe land use modernization // Agrarnaya Rossiya. — 2011. — #2. — Pp.34-42.
8. Shishov L.L. et al. Theoretical grounds and ways of control of soil fertility / L.L. Shishov, D.N. Durmanov, I.I. Karmanov, V.V. Efremov. — Moscow: Agropromizdat, 1991. — 304 p.
About this article
Authors:

Petrishchev V.P., Kazachkov G.V., Levykin S.V., Yakovlev I.G., Grudinin D.A.



Year:

2015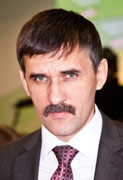 Editor-in-chief
Sergey Aleksandrovich
MIROSHNIKOV