Подача статей





Rusakova E.A., Korolev V.L., Zaveryukha A.H., Kharlamov A.V.
EFFECT OF PHYTASE ON ELEMENTAL STATUS OF THE BODY OF BROILER CHICKENS AT DIFFERENT LEVELS OF ENERGY IN THE DIET
The results of experimental studies that characterize the changes in the body of the element status of broiler chickens on the background of the enzyme preparation Ronozim NT (CT) in the diet with different levels of exchange energy. Found that when grown on low-energy diets of birds increases the bioavailability of I, Mn, Ni, Na, and with decreased bioavailability Cu, Fe, Ca, K, Zn. When adding phytase in a low-energy diet increased exchange of K, Na, P, Co, Zn, Se, V with a reduction in such As, Ni.
Key words:
mineral status, chemical elements, phytase, broiler chickens, exchange energy, Ronozim NT (CT).
References:
1. Fisinin, V.I. Feeding poultry / V.I. Fisinin, I.A. Egorov, T.M. Okolelova [and others] // Sergiev Posad: VNITIP, 2010. — 375 p.
2. Rusakova, E.A. Effect of phytase on some blood biochemical parameters of broiler chickens / E.A. Rusakova, S.V. Lebedev, N.Yu. Kopaneva // Vestnik Orenburg state university. — 2011. — №12 (131). — P. 421–423.
3. Lebedev, S.V. Effect of enzyme preparations on the content of trace elements in the tissues and organs of chickens / O.N. Kanavina, E.P. Miroshnikova, O.V. Kwan // Vestnik Orenburg state university. — 2004. — №4. — P. 60–61.
4. Egorov, I.A. Phytase in vegetable compound feed for broilers / I.A. Egorov, E. Anchikov // Poultry. — 2010. — №4. — P. 40–45.
5. Kwan, O.V. Modeling deficit chemicals in animals / O.V. Kwan, S.V. Lebedev, E.A. Rusakova // Proceedings of the Orenburg state agrarian university. — 2011. — №4 (32). — Р. 312–315.
6. Scott, M.L. Nutrition of the Chicken / M.L. Scott, M.C. Nesheim, R.J. Young. — Ithaca, N.Y.: M.L. Scott, 1982. — 300 p.
About this article
Authors:

Harlamov A.V., Zaveryuha A.H., Rusakova E.A., Korolev V.L.



Year:

2012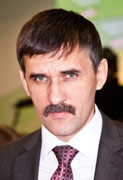 Editor-in-chief
Sergey Aleksandrovich
MIROSHNIKOV