Подача статей





Garipova, N.V., Zaverjuha А.Х., Zelepuchin A.G., Хolodilina T.N., Sirazetdinov Ф.Х., Ryabov M.I., Ramensky V.A.
EFFECT OF DRUGS MICROPARTICLES OF IRON ON THE INTERIOR AND PRODUCTIVITY OF BROILER CHICKEN [№ 10 ' 2013]
There are presented the experimental data indicating changes in biochemical status in the body of broiler chickens under the influence of fully balanced diets and diets containing bran product is exposed to the microwave and ULTRASONIC) in combination with microparticles of iron.
Rusakova E.A., Korolev V.L., Zaveryukha A.H., Kharlamov A.V.
EFFECT OF PHYTASE ON ELEMENTAL STATUS OF THE BODY OF BROILER CHICKENS AT DIFFERENT LEVELS OF ENERGY IN THE DIET [№ 10 ' 2012]
The results of experimental studies that characterize the changes in the body of the element status of broiler chickens on the background of the enzyme preparation Ronozim NT (CT) in the diet with different levels of exchange energy. Found that when grown on low-energy diets of birds increases the bioavailability of I, Mn, Ni, Na, and with decreased bioavailability Cu, Fe, Ca, K, Zn. When adding phytase in a low-energy diet increased exchange of K, Na, P, Co, Zn, Se, V with a reduction in such As, Ni.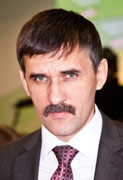 Editor-in-chief
Sergey Aleksandrovich
MIROSHNIKOV