Подача статей





Cheremushnikova I.I., Notova S.V., Barysheva E.S., Davydova N.V., Grivko N.V., Smantser T.A.
PSYCHO-PHYSIOLOGICAL TESTING AS A METHOD FOR EVALUATING THE EFFECTIVENESS OF THE TRAINING OF STUDENTS
In article results of studying of typological features of psychomotor indicators of students, in the form of individual profiles with definition of their interrelation with personal characteristics of the person are presented. The Tepping-test is considered, how the tool of studying of psychophysiological features of educational activity of students, and a technique with application of tables "Shulte — Platonova", as an authentic method of definition of level of their working capacity.
Key words:
a psychomotility, an individual psychomotor profile, the tepping-test, tables "Shulte — Platonova".
References:
1. Bazylevich T.F. About a force syndrome регуляторной brain systems. Problems of differential psychophysiology. Electrophysiological researches of the basic properties of nervous system. М: the Science, 1974. P.93-111.
2. Golubeva E.A. reaction of reorganization of biocurrents of a brain and typological properties of nervous system.//Typological features of the higher nervous activity of the person. т.IV. М: 1965
3. Ilyin E.P.methodical of instructions to a practical work on psychophysiology.//the Express train methods at studying of properties of nervous system. Л: 1981
4. Ilyin E.P.differential psychophysiology. SPb: Peter, 2001. — 464с.
About this article
Authors:

Davydova N.O., Cheremushnikova I.I., Notova S.V., Barysheva E.S., Grivko N.V., Smantser T.A.



Year:

2011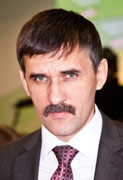 Editor-in-chief
Sergey Aleksandrovich
MIROSHNIKOV