Подача статей





Pankratovich T.M., Mikheeva T.M., Pankratovich Y.G., Stepanov V.M.
PRACTICE-ORIENTED ASPECTS OF ENDURANCE AMONG STUDENTS AT PHYSICAL CULTURE LESSONS DIFFERENT SPECIES ORIENTATION
In any activity there are specific requirements to abilities of the person a long time to perform the work without compromising its efficiency, resist fatigue, effectively to recover after work. This ability is identified as one of the leading physical qualities — endurance. A sufficient level of development of endurance allows each person to better cope with any prolonged work (whether work training, mental or physical). That is why in all curricula in physical education on all educational levels education endurance is very important, provides a basic level of development. Educational practice in higher education has shown that most students experience some difficulties in the implementation of the control requirements for assessing the level of development of endurance. This determined the search areas of the ways to improve indicators of endurance among students at physical culture lessons. In our study, we considered the practice-oriented aspects of endurance, substantiate and verify the effectiveness of pedagogical conditions aimed at improving General endurance of the students at the lessons of physical culture of different species orientation.
Key words:
general endurance, students, classes in physical culture of various species orientation.
References:
1. Vasil'kov AA Theory and Methods /A.A sport. Cornflower — Rostov n / D: Phoenix, 2008. — 192 p.
2. Yu Evseev Physical culture /YU.I. Evseev. — Ed. 3rd. — Rostov n / D.: Phoenix, 2005. — 382 p.
3. Kuramshin YF Theory and methods of physical culture /Yu.F.Kuramshin. — M.: Prospect, 2007. — 319 p.
4. Matveev, LP The general theory of sport and its applications. 4th ed., Rev. And add. — SPb.: Lan, 2005. — 384 p.
5. Matveev LP Theory and methods of physical training. — Moscow: FIS, 1991 — 543s.
6. Maksimenko AM Theory and methods of physical training: a textbook for high schools /A.M physical culture. Maksimenko. — M.: "Physical Education", 2009. — 496 p.
7. Ozolin NG Coach Handbook: The Science of Winning / — M.: OOO "Publisher Astra" OOO "Izdatelstvo AST, 2003. — 863s.
8. Pankratovich TM Self-education of the young sportsman personality Perspective directions in the field of physical culture, sport and tourism: Materials of II All-Russian scientific-Practical. Conference with international participation (Nizhnevartovsk, March 30, 2012) — Nizhnevartovsk: Publishing House of Nizhnevartovsk. gumanit.un Press, 2012. — p. 269-274.
9. Pankratovich TM Kuptsov VG Pedagogical conditions of optimization of the process of self-education of young sportsmen. Educational Innovative Technologies: Theory and Practice: Monograph /[O.G. Abramkina, V.V.Denisova, E.G.Zueva et al.]; under the general editorship. Prof. OI Kirikova. — Book 11 — Voronezh: SGMP, 2012. — Chapter XII with. 210-227.
10. Sidorov AA, Prokhorov MV, BD Sinyuhin Pedagogy: Ucheb.dlya stud, asp, prep.i coaches dis... "Physical culture" — M.: "Tera — Sport", 2000. — 272 p.
11. Smirnov VM, Dubrovsky VI Physiology of Sport and Physical Education: Textbook. For stud.sred. and higher. Educational institutions. — M.: Izd VLADOS PRESS, 2002. — 608 p.
12. The modern system of sports training / edited by FP Suslov, V.L.Sycha, BN Shustin. — M. "CAAM", 2005. — 223 with.
13. Theory and methods of physical education / Ed. BA Ashmarina. — M.: Education, 1990. — 360s.
14. Kholodov JK, Kuznetsov, VS Theory and methods of physical education and sport: Textbook for students. — 2nd edition, revised and enlarged /ZH.K. Kholodov, VS Kuznetsov. — M.: Publishing Center "Academy", 2003. — 480 p.
15 Kholodov, GB Self-intensity physical activity on the basis of pulsometry in the process of exercise / GB Kholodov, TM Mikheev, VY Ziambetov // Vestn. Orenbah. state. Univ. — Orenburg. 2016. — number 2 (125) — S. 72-78.
16. Physical Education: Training. Benefit / under obsch.red. EV Koneva. — Rostov n / D: Phoenix, 2006. — 558 p.
About this article
Authors:

Miheeva T.M., Pankratovich Yu.G., Stepanova M.V., Pankratovich T.M.



Year:

2016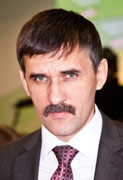 Editor-in-chief
Sergey Aleksandrovich
MIROSHNIKOV