Подача статей





Kanyukov V.N., Voronina A.E., Borshchuk E.L.
MEDICAL AND SOCIAL CHARACTERISTICS OF PATIENTS WITH PRIMARY OPEN-ANGLE GLAUCOMA IN ORENBURG REGION
The increase of glaucoma incidence is noticed in most of theRussian regions. So, its analysis during the period 1994—2002 had been conducted in 27 regions of Russia and showed the increaseof glaucoma incidence, on the average from 3.1 to 4.7 per 1 000 population.We conductedaretrospective reviewof 3 851 medical chartsof patients with primary open-angle glaucoma.The sample included patients with primary open angle glaucoma in both eyes, with follow-up for at least 3 years, without cataractsand other comorbiditiesin a medical history.According to the results of the examinationwe selected 185 patients corresponding to the selection criteria, and made data copies of outpatient cards. Over the follow up period, most patients applied during the period from 2005 to 2009. The longest follow up period was 19 years. According to the Stages of glaucoma all patients were divided as follows: I stage — 56 %; II stage — 13 %; III stage — 25 %; IV stage — 6 %.There was an increase trend by 2.5 % among glaucoma patients with III and IV glaucoma stages.The principal difference according to the stages in the structure of glaucoma between the right and left eyes hasn't been detected. All patients had glaucoma in both eyes, but it was at 23.5 % at the first visit in an advanced stage (III and IV degrees).The main part of glaucoma patients was at the age of 60—69 years, but 25 % of all glaucoma patients were of working age at the diagnosis.
Key words:
glaucoma, medical examination, disease incidence.
References:
1. Komarovskikh E.N., Lazarenko V.I., Il'enkov S.S. Early diacrisis of primary open angle glaucoma. Krasnoyarsk: Amal'gama; 2001. -164 p.
2. Kurysheva N.I.Glaucomatous optic neuropathy. Moscow: Medpress-inform, 2006. — 136 p.
3. Nesterov A.P., Bunin A.Ya.// VestnikOftal'mologii, 1977. — № 5. — P. 38–43.
4. Wang X., Harmon J., Zabrieskie N., Chen Y., Grob S., Williams B., Lee C., Kasuga D., Shaw P.X., Buehler J., Wang N., Zhang K. Using the Utah Population Database to assess familial risk of primary open angle glaucoma. //Vis Res. 2010; 23(50): — Р. 2391–2395.
5. Dronov M.M., Korovenkov R.I., Aleksanin S.S.Health, social and economic importance of the disease called glaucoma // Medico-biological and socio-psychological problems of security in emergency situations. 2011. — № 1. — P. 42–49
6. Razumovskiy M.I.State of disability and medical-social examination // Modern ophthalmology: Guideline.the2ndedition / Edited by V.F.Danilicheva. SPb: Pter, 2009. — P. 541-556.
7. Leske M.C., Leibowitz H.M., Krueger D.E. The Framingham Eye Study monograph: Anophthalmological and epidemiological study of cataract, glaucoma, diabetic retinopathy, macular degeneration, and visual acuity in a general population of 2631 adults, 1973–1975 / M.C. Leske, H.M. Leibowitz, D.E. Krueger [et al.] // Surv. Ophthalmol. — 1980. –Vol. 24. — P. 335–610.
8. Healthcare in Russia. 2011: Statistical book.–М.: Rosstat, 2011. — 355 p.
9. LibmanE.S. Epidemiological specification of glaucoma / E.S. Libman // Glaucoma. — 2009. — № 1. — P. 2–3.
10. LibmanE.S. Blindness and vision disability in Russian population / E.S. Libman, E.V.Shakhova // VIICongress of Russian ophthalmologists: theses of reports — М., 2005. — P. 76–79.
11. VolkovV.V. Glaucoma at pseudonormal pressure: Guideline for doctors. — М.:Meditsina, 2001. — P.6
12. Yablonskaya L.Ya., Popova O.E. GlaucomaЯблонскаяЛ.Я., ПоповаО.Е. Glaucoma: evaluation of the epidemiological situation in the Sverdlovsk region. // New technologies in ophthalmology. Materials of all-Russian conference.Kazan, 2012. — P. 153–154.
13. Kanyukov V.N., Borshchuk E.L., Voronina A.E. Medical examination of patients with primary open angle glaucoma diagnosis in Orenburg polyclinics.//Vestnik of Orenburg state university.2013. — № 1 (150). — P. 104-107.
14. Maklakov A.N. // Ophthalmotonometry. Medical view, 1884. — Vol. 22, № 24. — P.1092-1096 (14)
About this article
Authors:

Kanyukov V.N., Voronina A.E., Borshchuk E.L.



Year:

2015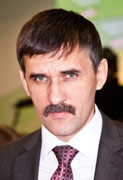 Editor-in-chief
Sergey Aleksandrovich
MIROSHNIKOV