ðÏÄÁÞÁ ÓÔÁÔÅÊ





Aprelev A.E., Chuprov A.D., Gorbunov A.A., Astaf'ev I.V., Kanyukova Yu.V., Iserkepova A.M., Kogan M.A.
EXPERIENCE OF DISTANCE EDUCATION OF STUDENTS OF ORGMU OPHTHALMOLOGY DEPARTMENT IN COVID-19 PANDEMIC CONDITIONS [№ 2 ' 2021]
The special epidemiological situation that arose in 2020 in connection with the spread of the new coronavirus infection COVID-19 affected all spheres of human life, including the education system. The experience gained during the pandemic in the implementation of educational programs using distance technologies is unique in each university. The purpose of our study was to identify the attitude of students of ORGMU Department of Ophthalmology to distance learning. A survey of 439 students of 3-5 courses of medical, pediatric, dental and preventive medicine faculties of the Orenburg State Medical University was carried out. Among them: 122 boys (27.8š%) and 317 girls (72.2š%), the average age of the respondents was 20.4 years. The questionnaire consisted of 28 questions and included questions related to the COVID-19 pandemic, distance learning in self-isolation, the willingness of teachers to use modern information technologies, the level of personal computer skills and Internet skills. The students agreed on the advantages of distance learning: a low probability of contracting a coronavirus infection — 98š%, the possibility of re-familiarization with the training material — 75š%, restoration of the diet — 90š%, individual learning rate — 73š%, the use of modern teaching technologies — 41š%.
In addition, distance learning contributed to the development of self-discipline of students in preparation for classes and significantly increased the level of psychological comfort of students. With this type of training, a subjective assessment on the part of the teacher is excluded, since he does not take part in testing on the exam, but only processes the obtained results and puts marks in an electronic statement. Most students see this as the main advantage.
Eremina N.V., Tomin V.V., Kanyukova J.V.
ORGANIZATION IMPROVEMENT OF STUDENTS' INDEPENDENT WORK IN CROSS-CULTURAL INTERACTION [№ 1 ' 2021]
Currently, a very urgent problem in the university training system of students in foreign languages is the problem of designing educational and methodological complexes for classroom and extracurricular use. Analysis of this problem's state in the context of social order allows us to note that the domestic market is insufficiently saturated with the required teaching aids. Existing textbooks differ, as a rule, either by a traditional formal approach or by a hypertrophied professional orientation and the absence of assignments aimed at independent extracurricular work. Educational and methodological complexes at the university level should be built based on communicative, sociocultural, and cognitive approaches.
Raising the status of a foreign language in many countries' education systems poses the task of creating new pedagogical, didactic, and methodological developments of conditions for improving the process of its learning. A characteristic feature of didactic aids is the versatility of their application. The structuredness of educational and methodological complexes in the form of multi-level blocks contributes to developing students of a scientific organization for the development of educational material, free orientation within the course, and the development of practical skills for performing control tasks. The main criteria for selecting material for students' independent work are problematic, relevance, availability, adequacy, optimality of volume and complexity, the possibility of self-control and self-correction, and variability of tasks.
Independent work in a foreign language in the context of cross-cultural interaction at non-linguistic faculties is an obligatory part of the educational process. The main goals are achieving an appropriate level of foreign language communicative competence and preparing graduates for an independent increase in foreign language proficiency. When planning and organizing students' independent work in cross-cultural interaction, it is necessary to consider their readiness to perform this type of work: psychological, theoretical, practical.
Kanyukov V.N., Trubina O.M., Podoprigora R.N.
POSTGRADUATE EDUCATION FOR NURSES IN OPHTHALMOLOGY [№ 1 ' 2016]
Orenburg branch in cooperation with the regional medical college holds postgraduate certification courses of improvement and specialization for nurses and nursesš— optometrists. It includes specialization for nursesš— 216šh., improvementš— 144šh., retraining of nursesš— optometristsš— 540šh. Training is carried out at least 1štime in 5šyears. 290šnurses have been trained over the past 5šyears. The teachers are candidates of medical sciences. All lectures and seminars are held in the conference hall with modern projection equipment. Nurses get acquainted with modern equipment in diagnostic rooms and study new technologies of treatment of eye diseases in procedure and examination room. We use telecommunications technologies in the training of nurses. The control of knowledge is carried out by computer-based testing and examination. New informational technologies provide a continuous process of training for nurses in ophthalmology.
Kagan I.I., Kanyukov V.N., Bazhitova E.A.
CORRECTION OF PALPEBRAL FISSURE PARAMETERS IN PATIENTS WITH ACQUIRED PATHOLOGY [№ 12 ' 2015]
One of actual problems of modern plastic ophthalmosurgery is the correction of the form and parameters of the palpebral fissure. Anatomic facial indicators of a healthy person and, in particular, the geometric dimensions of the palpebral fissure, acquired great importance due to the increasing tendency to change some features of the face. In this work we studied variant anatomy of palpebral fissure in middle age patients with emmetropia, conducted anatomical and variational substantiation of the partial measured canthotomy. The obtained data were treated using the program STATISTICAš10.0. Surgical repair of palpebral fissure was performed according to the method of partial constant measured canthotomy with local plasty (patent №š2003310, V.N.šKanyukov, 1991), which preserved the conjunctiva intact, preventing the formation of rough scarring in the canthus area in the postoperative period. We developed and applied in clinical practice a set of tools for canthotomy (patent №š121153 "A tool for measured canthotomy", V.N.šKanyukov, 20.10.2012; patent №š110267 "Cannula holder for canthoplasty", V.N.šKanyukov, 27.11.2011). The developed surgery technology for increasing the length of palpebral fissure is the best method, in which it is possible to conduct an adequate audit of the surgical field, the necessary individual correction of palpebral fissure parameters for each patient.
Kanyukov V.N., Saneeva Zh.Kh.
CLINICAL APPLICATION OF "ALLOPLANT" FOR REVASCULARIZATION OF CILIARY BODY AT PHTHISIS BULBI [№ 12 ' 2015]
The main factor in the development of phthisis bulbi is a traumatic detachment of ciliary body and disorder of its trophic function, due to mechanical damages of choroid and post-traumatic inflammation in it, as well as paresis and vasodilation of vessels resulting in extravasation and swelling of the surrounding tissues, which leads to the development of hypotension. Phthisis bulbi has typical clinical symptoms: post-traumatic uveitis, hypotension, scarring changes of fibrous eye capsule, deformation and shortening of eyeball sizes, lowering of visual functions up to their complete absence. The main purpose in the treatment of phthisis bulbi is the relief of inflammation and restoration of ciliary body trophism. The analysis of the conducted investigation showed that the clinical effect developed best of all for 6 months indicating the positive impact of "Alloplant" on phthisis bulbi process. We proposed a sparing method of revascularization of ciliary body by "Alloplant" allowing to improve ciliary body trophism, minimize the time of surgical intervention, and reduce trauma and additional scarring of tissues of phthisis bulbi by means of biomaterial rebuilding and the development of newly formed blood vessels in it.
Kanyukova Yu.V., Kadnikova O.V.
SELECTIVE LASER TRABECULOPLASTY AS A TREATMENT MODE FOR PRIMARY OPEN-ANGLE GLAUCOMA (THE RESULTS OF 6šMONTHS FOLLOW UP) [№ 12 ' 2015]
Glaucoma is one of the most common eye diseases, often resulting in low vision, blindness and disability. Among the clinical forms of the disease the primary open angle glaucoma (POAG) accounts for 72š% of all glaucoma cases. According to some researchers, selective laser trabeculoplasty (SLT) is a safe alternative for anti-glaucoma medications in the treatment of POAG. SLT was performed in 90špatients (125šeyes) aged 18što 85šyears (48šmales and 52šfemales). The first stage of glaucoma was registered on 49 eyes (39.2š%), the second stageš— 46šeyes (36.8š%) and the third oneš— 30šeyes (24.0š%). IOP was 20što 35šmmšHg. The patients underwent surgery had the following comorbidities: cataractš— 34šeyes (27.2š%), myopiaš— 35šeyes (28.0š%), hyperopiaš— 23šeyes (18.4š%), pseudophakiaš— 9šeyes (7.2š%), presbyopiaš— 11šeyes (8.8š%), pseudoexfoliation syndromeš— 13šeyes (10.4š%). The laser parameters were adapted for the selective impact on the trabecular pigmented cells, without coagulate damage of structure of trabecular meshwork or non-pigmented cells. All patients were examined at 1šday, 1, 3 and 6šmonths after surgery. SLT is an effective and safe laser surgery in patients with early stage of POAG. Using SLT the target pressure has been achieved in 88š% of cases. IOP compensation was noticed by the end of the first day after surgery and was stable, while maintaining therapeutic regimen or its weakening during follow up period (6šmonths). An important indicator of SLT efficacy is improvement of visual acuity and widening of limits of field of view. Selective laser trabeculoplasty may be inappropriate for patients with previously operated far-advanced glaucoma and on the background of diabetic retinopathy due to the presence of goniosynechia, neovascularization and high proliferative activity.
Kanyukov V.N., Voronina A.E., Borshchuk E.L.
MEDICAL AND SOCIAL CHARACTERISTICS OF PATIENTS WITH PRIMARY OPEN-ANGLE GLAUCOMA IN ORENBURG REGION [№ 9 ' 2015]
The increase of glaucoma incidence is noticed in most of theRussian regions. So, its analysis during the period 1994—2002 had been conducted in 27šregions of Russia and showed the increaseof glaucoma incidence, on the average fromš3.1 toš4.7 per 1š000 population.We conductedaretrospective reviewof 3š851šmedical chartsof patients with primary open-angle glaucoma.The sample included patients with primary open angle glaucoma in both eyes, with follow-up for at least 3šyears, without cataractsand other comorbiditiesin a medical history.According to the results of the examinationwe selected 185špatients corresponding to the selection criteria, and made data copies of outpatient cards. Over the follow up period, most patients applied during the period fromš2005 toš2009. The longest follow up period was 19šyears. According to the Stages of glaucoma all patients were divided as follows: Išstageš— 56š%; IIšstageš— 13š%; IIIšstageš— 25š%; IVšstageš— 6š%.There was an increase trend by 2.5š% among glaucoma patients with III and IV glaucoma stages.The principal difference according to the stages in the structure of glaucoma between the right and left eyes hasn't been detected. All patients had glaucoma in both eyes, but it was at 23.5š% at the first visit in an advanced stage (IIIšand IVšdegrees).The main part of glaucoma patients was at the age of 60—69šyears, but 25š% of all glaucoma patients were of working age at the diagnosis.
Kanyukova Yu.V., Kanyukov V.N., Borshchuk E.L., Bayanova N.A.
DIABETIC RETINOPATHY AS A MEDICAL AND SOCIAL PROBLEM IN THE COMPARATIVE ASPECT OF URBAN AND RURAL SETTLEMENTS OF ORENBURG REGION [№ 9 ' 2015]
The incidence of diabetes and its complications, both in Russia and throughout the world confirms the absence of downward indicators trend. The carried out analysis shows that the level and dynamics of the incidence of diabetic retinopathy in rural settlements indicates the problems concerning the access to specialized health care. Thehighestrangeofincidenceof eye diseases and adnexa, diabetes and diabetic retinopathy was observed inš2010 (207.79, 113.63, 27,13š‰, correspondingly). This variability of levels of diabetes and diabetic retinopathy are stable within 15š‰‰ (14.94 and 8.2š‰).We distinguishedthe significant differences in thedisease incidence of urban and rural areas (31.47, 20.60š‰), among the working-age population (85.1š‰) and population over the working-age (66.2š‰).It was noted: the diabetic retinopathy incidence among women in rural settlements dominated by 1.81š‰ as compared with similar indicator among town women, and also non-specific low rate among the male population of urban settlements inš2011 (for the rest levelsš— 2013šyear). According to the conclusion of the WHO Study Group, the major obstacles to effective prevention of blindness caused by diabetic retinopathy are hasty work of polyclinic ophthalmologists, late referral of patients for laser treatment, lack of necessary equipment and experienced ophthalmologists specializing in the treatment of diabetic retinopathy, difficulty of travelling to the regional center and the high cost of travel to the special careinstitutions.The obtained data indicate varying degrees of access to specialized medical care among the cities of the region, with its primary administration in the regional center.
Kanyukov V.N., Stadnikov A.A., Trubina O.M., Yakhina O.M.
EXPERIMENTAL MODELING OF TRAUMATIC CORNEAL INJURIES [№ 12 ' 2014]
There was modeled erosion of the cornea by the method of S. Hanna, J.E. O'Brien, alkaline corneal burn by Obenberger method, acid burn of the cornea, by analogy with the alkali burn in the eyes of experimental animals (rabbits). The state of the animals was assessed clinically and morphologically in dynamics. The study has shown that these models reflect the essence of reparative processes and the data, obtained in the experiment, can be extrapolated to the clinic.
Kanyukov V.N., Chesnokova E.F.
PECULIARITIES OF SURGICAL TREATMENT OF PARALYTIC STRABISMUS — PLASTY WITH EXTRAOCULAR MUSCLES WEAKENING [№ 12 ' 2014]
Paralytics trabismusis characterized by the state of oculomotor system, at which one or more extraocular muscles completely or partially lost their function. Treatment of this disease is staged and not always effective. There was developed a technique of plastyof extraocular muscles with lengthening of strong muscle as the 1st stage of surgical treatment at paralytic strabismus which is effective and achieves satisfactory functional and cosmetic results of the treatment of this pathology.
Kanyukova Yu.V., Borshchuk E.L.
ORGANIZATION OF HIGH-TECHNOLOGY MEDICAL CARE FOR PATIENTS WITH DIABETES IN THE REMOTE TERRITORIES [№ 12 ' 2014]
There was developed an optimal organizational approximation scheme of tertiary eye care, provid in gearly diagnostic testing and timely laser treatment of persons with diabetes mellitus (DM), by creating mobile structures and its effectiveness was evaluated. It is proved that the organization of adistinct system of detecting and treating of diabetic retinopathy (DR) should lead to adecrease in the incidenceof blindness that will be expressed in a significant economic effect. There are four organizational models of regimen for DR treatment by laser photocoagulation.The system of mobiles tructures which was created in Orenburg branch of the S.Fyodorov Eye Microsurgery Complex is for improving of ophthalmic care in remote territories of the region; it has been thoroughly testedaccording to the modern technologies, involved and has its positive results.
Kanyukov V.N., Kagan I.I., Trubina O.M., Myasnikova E.A.
PECULIARITIES OF MORPHOLOGICAL STRUCTURE AND OPPORTUNITIES OF SURGICAL CORRECTION OF THE EYE FISSURE SHAPE AND PARAMETERS (LITERATURE VIEW) [№ 3 ' 2014]
Canthus plastic is still understudied direction. Normal topography of the eye fissure with anatomical marking of the upper and lower eyelid is the basis for determination of eyelids pathology and points out the indicates the technique of surgical intervention. The proposed method of eye fissure size increasing — partial, measured constant canthotomy with local plasty — keeps uninjured conjunctive, providing optimum wound adaptation and reducing the risk of postoperative complications.
Kanyukov V.N., Bannikov V.K., Malgina E.K.
MODERNAPPROACHESTOTHECOMPLEXTREATMENTOFBLEPHARITIS BY DEMODICOSIS ETIOLOGY [№ 3 ' 2014]
Granulated lids of demodicosis etiology is one of most common eyelid diseases. This disease needs long, specific and complex treatment. There were observed 200 patients with diagnosis "Demodex blepharitis". There have been carried out a comparative analysis of 2 treatment regimens: traditional of 45-days with calendula alcohol ate, gel "Glikodem" and eye drops "Vitabact" application and modern regiment of 4-days with ointment "Benzyl benzoate 10%", cream "Uniderm" and "Emolium". It was proved that treatment regimen including ointment "Benzyl benzoate 10%" is more effective in comparison with traditional one and reduces treatment period of demodexblepharitis.
Kaspruk L.I., KanyukovaYu.V.
TO THE QUESTION OF MODERNIZING NURSING MEDICAL EDUCATION AND IMPROVEMENT OF HEALTH SOCIAL ASSISTANCE IN ELDERLY AND SENILE AGE ORENBURG REGION [№ 1 ' 2014]
There was carried out geriatric care in addressing contemporary issues of quality of life in elderly subjects of the Russian Federation (Orenburg region). There was estimated the current status and development of nursing and nursing medical education, identified training and retraining of medical personnel nursing. The main directions of modernization of nursing medical care in elderly and senile age were defined.
Kanyukov V.I., Tayguzin R.Sh.
TECHNICAL SUPPORT OF STRABISMUS REMOVAL MICROSURGERY [№ 4 ' 2013]
Principle of microsurgical approach extends to methods of surgical strabismus treatment, but traditional tools do not always allow carrying it out. There is represented a series of devices that reduce the trauma and carry out sparing surgery on direct muscles.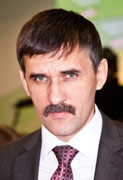 Editor-in-chief
Sergey Aleksandrovich
MIROSHNIKOV