Подача статей





Kanyukov V.N., Voronina A.E., Borshchuk E.L.
MEDICAL AND SOCIAL CHARACTERISTICS OF PATIENTS WITH PRIMARY OPEN-ANGLE GLAUCOMA IN ORENBURG REGION [№ 9 ' 2015]
The increase of glaucoma incidence is noticed in most of theRussian regions. So, its analysis during the period 1994—2002 had been conducted in 27 regions of Russia and showed the increaseof glaucoma incidence, on the average from 3.1 to 4.7 per 1 000 population.We conductedaretrospective reviewof 3 851 medical chartsof patients with primary open-angle glaucoma.The sample included patients with primary open angle glaucoma in both eyes, with follow-up for at least 3 years, without cataractsand other comorbiditiesin a medical history.According to the results of the examinationwe selected 185 patients corresponding to the selection criteria, and made data copies of outpatient cards. Over the follow up period, most patients applied during the period from 2005 to 2009. The longest follow up period was 19 years. According to the Stages of glaucoma all patients were divided as follows: I stage — 56 %; II stage — 13 %; III stage — 25 %; IV stage — 6 %.There was an increase trend by 2.5 % among glaucoma patients with III and IV glaucoma stages.The principal difference according to the stages in the structure of glaucoma between the right and left eyes hasn't been detected. All patients had glaucoma in both eyes, but it was at 23.5 % at the first visit in an advanced stage (III and IV degrees).The main part of glaucoma patients was at the age of 60—69 years, but 25 % of all glaucoma patients were of working age at the diagnosis.
Kanyukova Yu.V., Kanyukov V.N., Borshchuk E.L., Bayanova N.A.
DIABETIC RETINOPATHY AS A MEDICAL AND SOCIAL PROBLEM IN THE COMPARATIVE ASPECT OF URBAN AND RURAL SETTLEMENTS OF ORENBURG REGION [№ 9 ' 2015]
The incidence of diabetes and its complications, both in Russia and throughout the world confirms the absence of downward indicators trend. The carried out analysis shows that the level and dynamics of the incidence of diabetic retinopathy in rural settlements indicates the problems concerning the access to specialized health care. Thehighestrangeofincidenceof eye diseases and adnexa, diabetes and diabetic retinopathy was observed in 2010 (207.79, 113.63, 27,13 ‰, correspondingly). This variability of levels of diabetes and diabetic retinopathy are stable within 15 ‰‰ (14.94 and 8.2 ‰).We distinguishedthe significant differences in thedisease incidence of urban and rural areas (31.47, 20.60 ‰), among the working-age population (85.1 ‰) and population over the working-age (66.2 ‰).It was noted: the diabetic retinopathy incidence among women in rural settlements dominated by 1.81 ‰ as compared with similar indicator among town women, and also non-specific low rate among the male population of urban settlements in 2011 (for the rest levels — 2013 year). According to the conclusion of the WHO Study Group, the major obstacles to effective prevention of blindness caused by diabetic retinopathy are hasty work of polyclinic ophthalmologists, late referral of patients for laser treatment, lack of necessary equipment and experienced ophthalmologists specializing in the treatment of diabetic retinopathy, difficulty of travelling to the regional center and the high cost of travel to the special careinstitutions.The obtained data indicate varying degrees of access to specialized medical care among the cities of the region, with its primary administration in the regional center.
Borshchuk E.L., Voronina A.E.
COMPARATIVE ESTIMATION OF CRITERIA OF QUALITY OF LIFE IN PATIENTS WITH OPHTHALMOPATHOLOGY [№ 12 ' 2014]
A person gets about 95 % of the information about the world around through the organ of sight. Even a slight decrease in vision can have a significant negative impact on quality of life. An anonymous survey of patients who first applied in Orenburg branch of "The S. Fyodorov Eye Microsurgery Complex", in the period 2012–2014 years was carried out. Cataract was most often found in the age of 70–79 years. Most respondents with cataract, glaucoma, eye diabetes and retinal detachment rated their health as "mediocre", and the cause of their health status more often marked "Eyes".
Kanyukova Yu.V., Borshchuk E.L.
ORGANIZATION OF HIGH-TECHNOLOGY MEDICAL CARE FOR PATIENTS WITH DIABETES IN THE REMOTE TERRITORIES [№ 12 ' 2014]
There was developed an optimal organizational approximation scheme of tertiary eye care, provid in gearly diagnostic testing and timely laser treatment of persons with diabetes mellitus (DM), by creating mobile structures and its effectiveness was evaluated. It is proved that the organization of adistinct system of detecting and treating of diabetic retinopathy (DR) should lead to adecrease in the incidenceof blindness that will be expressed in a significant economic effect. There are four organizational models of regimen for DR treatment by laser photocoagulation.The system of mobiles tructures which was created in Orenburg branch of the S.Fyodorov Eye Microsurgery Complex is for improving of ophthalmic care in remote territories of the region; it has been thoroughly testedaccording to the modern technologies, involved and has its positive results.
Kanyukov V.N., Borshchuk Ye.L., Voronina A.E.
MEDICAL EXAMINATION OF PATIENTS WITH PRIMARY OPEN ANGLE GLAUCOMA DIAGNOSIS IN ORENBURG POLYCLINICS [№ 1 ' 2013]
Glaucoma is one of main disabling diseases in the world. There were analyzed 400 out-patient medical records with primary open angle glaucoma diagnosis. It is established that at majority of patients diagnosis glaucoma was detected at II and III degree, which shows the reconsideration necessity of existing medical examination system of this group.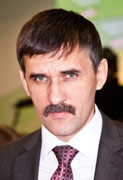 Editor-in-chief
Sergey Aleksandrovich
MIROSHNIKOV