Подача статей





Kanyukov V.N., Stadnikov A.A., Trubina O.M., Yakhina O.M.
EXPERIMENTAL MODELING OF TRAUMATIC CORNEAL INJURIES
There was modeled erosion of the cornea by the method of S. Hanna, J.E. O'Brien, alkaline corneal burn by Obenberger method, acid burn of the cornea, by analogy with the alkali burn in the eyes of experimental animals (rabbits). The state of the animals was assessed clinically and morphologically in dynamics. The study has shown that these models reflect the essence of reparative processes and the data, obtained in the experiment, can be extrapolated to the clinic.
Key words:
corneal erosion, alkaline corneal burn, acid burn of cornea, experimental model.
References:
1. Whitehead, A.N. Selected works on philosophy / A.N. Whitehead. — М.: Progress, 1990. — 716 p.
2. Bolshakov, O.P. Didactic and ethical aspects of research on biomodels and laboratory animals / O.P. Bolshakov, N.G. Neznanov, R.V. Babakhanyan // Qualitative clinical practice. — 2002. — №1. — P. 58–61.
3. Hanna, C. Cellturnover in the adult human eye / C. Hanna, D.S. Bicknell, J.E. O'Brien // Arch Ophthalmol. — 1961. — Vol. 65. — P. 695–703.
4. Obenberger, J. Paper strips and rings as simple tools for standartization of experimental eye injuries / J. Obenberger // Ophthalmol. Res. — 1975. — Vol.7. — P. 363–366.
5. Wagoner, M.D. Chemikal injuries of the eye: Current concepts in pathophysiology and therapy / M.D. Wagoner // Surv. Ophthalmol. — 1997. — Vol. 41. — P. 275–312.
About this article
Authors:

Yahina O.M., Kanyukov V.N., Stadnikov A.A., Trubina O.M.



Year:

2014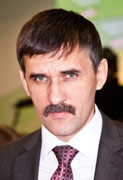 Editor-in-chief
Sergey Aleksandrovich
MIROSHNIKOV