Подача статей





Bochkareva I.A., Popov V.P., Zinyukhina A.G.
PROCESS OPTIMISATION OF SPECIAL PURPOSE PASTA PRODUCING USING PUMPKIN PULP
The paper considers the effect of the addition of pumpkin pulp in the production of pasta, set the optimal ratio of bread flour and pumpkin pulp for making pasta dough. Optimized modes of production of pasta for this recipe on the basis of comprehensive quality metrics and expert evaluation of organoleptic properties.
Key words:
pasta, pumpkin pulp, extrusion, complex quality indicators.
References:
1. The use of non-conventional raw materials for the production of pasta / V.A. Malyshkina [et al.] // Vestnik of the Orenburg State University, 2004. — №2. — P. 168–170
2. Extrusive Engineering and Technology: Status, Prospects / V.A. Vygodin [et al.]. — M.: Food Industry. — 1995. — №7. — P. 4.
3. Study of the changes of the formulation of pasta as a factor that enhances the safety of the technology / V.A. Solopova [et al.] // Vestnik of the Orenburg State University. — 2012. — №91145. — P. 191–196.
4. Grachev, U.P. Mathematical methods for the design of experiments / U.P. Glachev, Y.M. Plaxin. — M.: Delhi, 2005. — 296 p.
5 Development of technology for the production of bread using baking method electrocontact / G.A. Sidorenko [et al.]. — Orenburg, 2013.
About this article
Authors:

Zinyuhina A.G., Bochkareva I.A., Popov V.P.



Year:

2014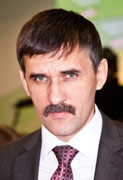 Editor-in-chief
Sergey Aleksandrovich
MIROSHNIKOV