Подача статей





Kamenev S.V., Lapynina M.Yu., Fot A.P, Chepasov V.I.
INTENSE THE DEFORMED CONDITION OF PLATES LINKS OF DRIVING ROLLER CHAINS
Article is devoted to an assessment intense the deformed condition of plates of links of driving roller chains and to definition of a rational form and the sizes of plates.
Key words:
driving roller chain, chain link, plate of a link, intense the deformed condition of a plate.
References:
1. Sparrows, N. V. chain transfers: monograph/N of V. Vorobey. — M.: Mechanical engineering, 1968. — 262 pages.
2. GOST 13568-97. Chains driving roller and vtulochny. General specifications. — M.: Publishing house of standards, 1975. — 21 pages.
3. Phot, A.P. Otsenka of constructive and technological perfection of driving chains / А.П.Фот//Messenger of regional public institution. — 2012 . — No. 1. — Page 197-199.
4. Tarabasov, N. D. chain couplings. Design, production and operation: Reference book/N D. Tarabasov, P. N. Uchayev. — M.: Mechanical engineering. — 1987 . — 256 pages.
5. Phot, A.P. new design of lamellar chain / A.P. Phot, P. N. Uchayev, K.P. Zhukov, V.P. Kowalewski//Messenger of mechanical engineering. — 1982 . — No. 3. — Page 40-41.
6. Anuryev, V. I. reference book of the designer-mechanician: In 3 t. — T.1. — 8th prod. reslave. and additional — M.: Mechanical engineering, 2001.-920 pages.
7. Grachyov, Yu.P. mathematical methods of planning of experiments. — M.: Food industry, 1979.-200 pages.
8. Norri D., de Friz. Introduction in a method of final elements: The lane with English — M.: World, 1981. — 304 pages.
9. Ivashkov, I.I. lamellar chains. Designing and calculation / I.I.Ivashkov. — M.: GNTI of machine-building literature, 1960. — 264 pages.
10. Static Stress Analysis of Link Plate of Roller Chain using Finite Element Method and Some Design Proposals for Weight Saving/Shoji NOGUCHI, Kohta NAGASAKI, Satoshi NAKAYAMA, Tohru KANADA, Toshiaki NISHINO and Takashi OHTANI//Journal of Advanced Mechanical Design, Systems, and Manufacturing. — 2009 . — Vol. 3 . -№2. — R.150-170 [DOI: 10.1299/jamdsm.3.159].
About this article
Authors:

Fot A.P., Kamenev S.V., Lapynina M.Yu., Chepasov V.I.



Year:

2014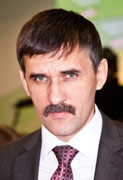 Editor-in-chief
Sergey Aleksandrovich
MIROSHNIKOV