Подача статей





Ishakova E.N., Zubkova T.M., Medvedev A.S.
PROGRAM SYSTEM OF THE ASSESSMENT OF RISKS IN THE HIGHER EDUCATION AREA WITH THE USE OF PRODUCTIONAL AND FRAME MODEL
In article the program system, permissive to estimate risks in the higher education area with the use of productional and frame model of representation of knowledge, is described. The algorithm of the solution of a task and model of data are described.
Key words:
risk, frame, slot, knowledge base, algorithm of an assessment of risks.
References:
1. ShCheglov, P.E. Quality of higher education. Risks of vocational training of specialists [Text] / P.E. ShCheglov, N.SH. Nikitin // University management: practice and the analysis. — 2003. — №1 (24). — S. 46-59.
2. Expert system of an assessment of risks based on productional and frame model: Certificate on official registration of the computer program No. 2013660215 Russian Federation / E.N. Ishakovas, A.S. Medvedev; ROSPATENT, Register of the computer programs. — No. 2013660215; declared 02.09.2013; register 28.10.2013.
3. Minsk, M. Freymy for representation of knowledge / M. Minsk, the lane from English O.N. Grinbaum. — M.: Energy, 1979. — 151 pp.
4. Horoshevsky, V.F. Management of projects in intellectual PIES Workbench system // News of the Russian Academy of Sciences. Technical Cybernetics series. -1993. — №5. — S. 71-98.
5. Gavrilova, T.A. Кnowledge bases of intellectual systems / T.A. Gavrilova, V.F. Horoshevsky. — SPb.: Peter, 2000. — 384 pp.
6. Documentation on SQLite. — Access mode: http://www.sqlite.org. э– Access date: 01.03.13.
7. Documentation on Visual Studio. — Access mode: http://msdn.microsoft.com/en-us/library/vstudio/dd831853.aspx. — Access date: 04.03.13.
8. Ishakova, E.N. Methodical elements of identification and the analysis of risks of vocational training of the future software engineers / E.N. Ishakova, Zh. G. Piskunova // Intelligence. Innovations. Investments. — 2012. — №2. — S. 142-145.
About this article
Authors:

Ishakova E.N., Zubkova T.M., Medvedev A.S.



Year:

2014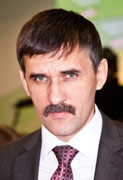 Editor-in-chief
Sergey Aleksandrovich
MIROSHNIKOV