Подача статей





Dogareva N.G., Bogatova O.V., Stadnikova S.V.
INFLUENCE OF DIFFERENT VEGETABLE FATS OVER QUALITY OF RECOMBINED CONDENSED MILK.
The lack of milk-product problem has been examined. It is possible to solve this problem replacing milk fat by fat of vegetable origin. The problem of directed and balanced nutrition can be also solved using fat methods in food industry in terms of vegetable oil. The results of experimental researches according to the usage of different vegetable oils in recombined condensed milk production are analyzed in this article. The best results are obtained replacing milk fat by "Soyuz 5/2 L" fat.
Key words:
milk-product, vegetable oils, technology, recombined condensed milk.
References:
1. Sharkaev V.I., Sharkaeva G.A. Abundance and productiveness dynamics of dairy cattle in the Russian Federation — Dairy products industry — 2013 -№7 — С 10-11
2. Statistical bulletin "Main aspects of agriculture in Russia"/Rosstat, 2012.
3. Koroy H.Y, Tolkatscheva D.V. Aspects of development of Russian market of vegetable oils — Dairy products industry — 2010 — №10 — С 45-46.
4. Kozirev D.I. Specialized oils "SoLPro" — 2012 — №11 С — 72.
5. Strizhko M.N., Radayeva I.A. and others. New concentrated product of gerodietetic purpose — Dairy products industry — 2013 — №3 — С — 64-65.
6. Tschekulaeva L.V. Technology of conservation products of milk and milk stuff/ L.V. Tschekulaewa, K.K. Polyanskiy, L.V. Golubeva. — M: DeLi print, 2002. — 249 p.
7. Pertov A.N. Organoleptic characters of tinned milk — Dairy products industry — 2004 — №9 — С. 49.
8. Gnezdilova A.I. Perelygin V.M. Physicochemical basis of molasses production and crystallization of lactose and sugar in aqueous solutions: Monograph. — Voronezh: Publishing house of Voronezh State University, 2002 — 96 p.
9. Golubeva L.V. Storage stability of tinned milk/ L.V Golubeva, Tschekulaewa, K.K. Polyanskiy, — M: DeLi print, 2001. — 115 p.
10. Mironova I.V., Frolov D.V., Bogatova O.V., Dogareva N.G., Rogatschev B.G., Pavlov L.N. Technology of milk deoxidation by homopolar electrochemical action method. — Bulletin of beef cattle breeding — 2013 T1 — №79 — С 126 — 132.
About this article
Authors:

Dogareva N.G., Bogatova O.V., Stadnikova S.V.



Year:

2014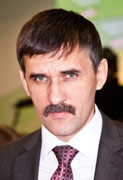 Editor-in-chief
Sergey Aleksandrovich
MIROSHNIKOV