Подача статей





Tsinberg M.B., Nenashevа M.N., Davydkina A.S.
CREATION OF BIOLOGICAL TECHNOLOGY, PROBIOTICS AND FUNCTIONAL FOODS FOR THE REGULATION OF MICRO-ECOLOGY OF MAN
Created 10 stages of the innovation cycle copyright for the production of new probiotics. Obtaining the Certificate of state registration of the new model holds great promise for entering the implementation stage of these supplements in Kazakhstan and Belarus.
Key words:
Кey words: probiotics, human microenvironment, innovation cycle, functional food products.
References:
1. Ilina R.M., Molokeev A.V., Molokeeva N.V., LG Nikulin Using bifidosoderzhaschih therapeutic dietary foods for the prevention of dysbacterioses / / Hygiene and Sanitation, 2000, №6, p.35-38
2. Tsinberg M.B. Innovation cycle of new probiotic soy-based vegetable raw materials for the correction of the intestinal microflora / / Int. Innovation. Investments, 2012, №4, page 253, 256.
3. Tsinberg M.B., Derjabin D.G., Denisova I.V., biological characteristics of the drugs Bifidobacterium and Lactobacillus, obtained with the hydrolyzate, milk and soy hydrolyzate-media / / Antibiotics and Chemotherapy, 2004, Volume 49, №8 — 9, p.29-33.
4. Tsinberg M.B., Tsinberg I.M., Denisova I.V. RF Patent 2177691, IPC A 23S9/12, A23S9/127. A method of production of fermented milk product / / №200104406, appl. 22.02.00, publ. 10.01.05, page 5.
5. Denisova I.V. Sanitary-hygienic and microbiological characterization of novel probiotic preparations "Soya-bifidum" and "Soya-laktum": Author. thesis for the degree of Candidate of Medical Sciences / I.V. Denisova — Orenburg, 2006, page 22.
About this article
Authors:

Nenasheva M.N., Tsinberg M.B., Davydkina A.S.



Year:

2013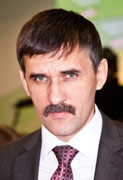 Editor-in-chief
Sergey Aleksandrovich
MIROSHNIKOV