Подача статей





Tsinberg M.B., Nenashevа M.N., Davydkina A.S.
CREATION OF BIOLOGICAL TECHNOLOGY, PROBIOTICS AND FUNCTIONAL FOODS FOR THE REGULATION OF MICRO-ECOLOGY OF MAN [№ 10 ' 2013]
Created 10 stages of the innovation cycle copyright for the production of new probiotics. Obtaining the Certificate of state registration of the new model holds great promise for entering the implementation stage of these supplements in Kazakhstan and Belarus.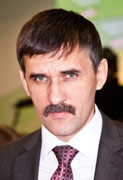 Editor-in-chief
Sergey Aleksandrovich
MIROSHNIKOV