Подача статей





Aptikieva L.R., Aptikiev А.H., Bursakova М.S.
THE PSYCHOLOGICAL PHENOMENON OF CRIME ORIENTATION IN THE STRUCTURE OF THE PERSONALITY OF THE TEENAGER WITH DEVIATING BEHAVIOR
The notion of orientation of the individual teenager with deviating behavior. Found a substantial basis crime orientation of the individual teenager (criminogenic complex personality and asocial motives behind the tendency teen choice to illegal means and ways to meet their needs). Proposed options, which determine the content of the criminogenic orientation of the individual teenager (traits, attitudes towards the future and social relations).
Key words:
orientation of the personality of the teenager with deviating behaviour, criminal orientation, criminal personality, criminogenic complex personality, asocial motives.
References:
1. Antonyan Y.M., Golubev V.P., KudryakovY.N., Bovin V.G. Some distinctive psychological traits of the person of the criminal Personality of the offender and the prevention of crimes. Collection of scientific papers. — M., 1987. — 328 p
2. Bashkatov I.P. Psychology asocial -criminal groups of teenagers and youth. — M.: Publishing house of the Moscow psihologo-social Institute; Voronezh: Publishing house of the NGO modek", 2002. — 416 p. (Series "the Library of psychologist")
3. Gernet M.N. On measures to combat juvenile delinquency // Proceedings of the VII Congress of representatives of the Russian correctional institutions for minors. — M., 1909. — With. 13 — 17.
4. Igoshev K.E. The psychology of criminal offenses among young people. — M.: Higher school of MIA of the USSR, 1971. — 172 p.
5. Ilyin E.P. Motivation and motives. — SPb.: Peter, 2002. — 512.: Il.– (Series "Masters of psychology").
6. Kleberg Y.A. Psychology of deviant behavior. — Tver, Miracle, 1998. — 152 p.
7. Kudryavtsev S. The study of criminal violence: social and psychological aspects // Psychological journal. — 1988. — №2. — V.9. — With. 55-62.
8. Pelipez V.S. Reasons for a deviation from the normal behavior of pupils of 5-8 grades and ways to overcome them: Avtoref. dis.
About this article
Authors:

Aptikiev A.H., Bursakova M.S., Aptikieva L.R.



Year:

2013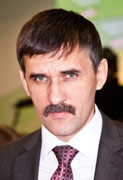 Editor-in-chief
Sergey Aleksandrovich
MIROSHNIKOV