Подача статей





Stadnikov A.A., Kanyukov V.N., Trubina O.M., Yakhina O.M.
APPLICATION OF BIOPLASTIC MATERIAL "HYAMATRIX" IN CHEMICAL CORNEAL INJURY
The paper describes an experimental study of the cornea chemical damage (alkaline and acid) of 30 rabbits (60 eyes). In the experimental group (30 eyes) the treatment was carried out according to the method of prof. V.N. Kanyukov. In the control group (30 eyes) there were appointed instillations of keratoplastic drugs. Clinical and morphological data obtained in the experiment showed that the application helped to reduce edema, thereby reducing the risk of newly formed blood vessels, accelerated the leucoma formation at alkaline burn.
Key words:
eye chemical burn, "hyamatrix" application, leucoma, neovascularization.
References:
1. Bagrov S.N. From science to production. — NEP / S.N.Bagrov, T.I.Ronkina // Ophthalmosurgery. — 1999. — №2. — 17p.
2. Restoring of skin defects in palmar-plantar psoriasis patients using new bioplastic material "Hyamatrix" / S.N.Letuta et al. // Experimental and clinical dermatocosmetology.– №3. — 2011. — P.52-54.
3. Gundorova R.A. Autoconjunctival corneal plastics is a choice surgery for sealing of infectious corneal defects / R.A. Gundorova, O.G.Oganesyan, P.V. Makarov, S.L.Iluridze // Theoretical and clinical research as the basis for medical and surgical treatment of eye injuries: Proceedings.– М. — 2000.– P.45-46.
4. Libman E.S. Blindness and disability of vision in Russian population / E.S.Libman, E.V.Shakhova // VIII Congress of ophthalmologists of Russia: Materials. — М., 2005. –P.78-79.
5. Puchkovskaya N.A. Pathogenesis and treatment of eye burns / N.A.Puchkovskaya, S.A. Yakimenko, V.M.Nepomnyashchaya// М.: Meditsina, 2001. — 256p.
6. Pfister R.K. Сhemical corneal burns / R.K. Pfister //Int. Ophthamol. Clin.-1984.-V.24, N.2– P.-157-168
About this article
Authors:

Yahina O.M., Stadnikov A.A., Kanyukov V.N., Trubina O.M.



Year:

2013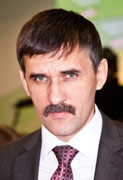 Editor-in-chief
Sergey Aleksandrovich
MIROSHNIKOV