Подача статей





Mitronina M.L., Agafonova V.V., Potapova L.S., Dziranova L.N., Nikitina I.V.
SELECTION OF SPECTACLE AND CONTACT CORRECTION OF VISION IN CHILDREN AND TEENAGERS WITH HYPEROPIC ANISOMETROPIA
Examination of 33 patients with hyperopic refraction aged from 7 to 16 years (mean age — 12.1±0.8 лет) with amesometropia making asthenopic complaints, has shown that most pronounced functional disorders exist in children and teenagers which do not use optic correction. The contact correction of both eyes vision is indicated in case of intolerance of spectacle correction.
Key words:
hyperopia, refraction, anisometropia, spectacles, contact lenses, accommodation.
References:
1. Goncharova S.A. Condition of binocular vision in case of anisometropia// Scientific Conference dedicated to 100 anniversary of the Ocular Diseases Chair of the Kazan Medical Institute: Materials.– Kazan, 1967. — P. 23-24
2. Mitronina M.L. Combined treatment of refractive amblyopia in children with hyperopia: author's abstract … cand. of med. sciences — М., 1996. — 19p.
3. Rosenblyum Y.Z. Refraction, accommodation and vision//Clinical physiology of vision. — 1993. — P. 180-198.
4. Kashchenko T.P. Visual functions and their correction in children. — М., Meditsina. — 2005. — P. 55-56.
5. Agafonova V.V. Correction of ametropia with intraocular phakic lenses: Author's abstract …doc. of med. sciences.– М., 2006 — 46p.
About this article
Authors:

Mitronina M.L., Agafonova V.V., Potapova L.S., Dziranova L.N., Nikitina I.V.



Year:

2013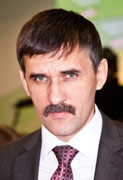 Editor-in-chief
Sergey Aleksandrovich
MIROSHNIKOV