Подача статей





Mitronina M.L., Agafonova V.V., Potapova L.S., Dziranova L.N., Nikitina I.V.
SELECTION OF SPECTACLE AND CONTACT CORRECTION OF VISION IN CHILDREN AND TEENAGERS WITH HYPEROPIC ANISOMETROPIA [№ 4 ' 2013]
Examination of 33 patients with hyperopic refraction aged from 7 to 16 years (mean age — 12.1±0.8 лет) with amesometropia making asthenopic complaints, has shown that most pronounced functional disorders exist in children and teenagers which do not use optic correction. The contact correction of both eyes vision is indicated in case of intolerance of spectacle correction.
Agafonova V.V., Antonova E.G., Mitronina M.L.
TREATMENT METHOD OF HIGH DEGREE HYPEROPIA, COMPLICATED WITH AMBLYOPIA OF HIGH AND THE HIGHEST DEGREE [№ 13 ' 2004]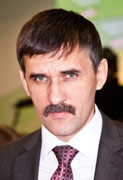 Editor-in-chief
Sergey Aleksandrovich
MIROSHNIKOV