Подача статей





Shatskikh A.V., Agafonova V.V., Frankowska-Gierlak M.S., Khaludorova N.B., Solomin V.A.
MORPHOLOGY OF IRIS OF THE EYE WITH PSEUDOEXFOLIATION SYNDROME [№ 12 ' 2014]
The aim of the research was to study the morphological and clinical changes of the iris in eyes with pseudoexfoliation syndrome (PEX). In donor еyes with PEX the destruction of the endothelium and basement membrane of the vessels of small and medium diameter, was detected with the appearance of the vessels-shadow and the regions of poor blood supply. In general the ischemic changes caused the destructuring of stroma and the iris muscle and could cause the changes of its functional state. The vascular disorders of the iris were revealed by carrying out the iris fuorescein angiography to patients with a cataract and various stages of pseudoexfoliation syndrome.
Agafonova V.V., Marshava D.O., Shatskih A.V.
EXPERIMENTAL CALCULATED RATIONALE OF ORIGINAL BILENSECTOMY TECHNIQUE IN EYES WITH PREVIOUSLY IMPLANTED POSTERIOR CHAMBER PHAKIC IOL [№ 4 ' 2013]
Simulation of the laminar current of aqueous humor, using the software complex FlowVision HPC, has shown a practical absence of aqueous humor flow movement in the upper contour over the phakic lens partly dislocated with luxation into the anterior chamber, during manipulations of all the stages of cataract phacoemulsification with the aphakic IOL implantation under it in the process of bilensectomy, using the original technique, what is verified in the experiment ex vivo.
Mitronina M.L., Agafonova V.V., Potapova L.S., Dziranova L.N., Nikitina I.V.
SELECTION OF SPECTACLE AND CONTACT CORRECTION OF VISION IN CHILDREN AND TEENAGERS WITH HYPEROPIC ANISOMETROPIA [№ 4 ' 2013]
Examination of 33 patients with hyperopic refraction aged from 7 to 16 years (mean age — 12.1±0.8 лет) with amesometropia making asthenopic complaints, has shown that most pronounced functional disorders exist in children and teenagers which do not use optic correction. The contact correction of both eyes vision is indicated in case of intolerance of spectacle correction.
Agafonova V.V., Kachalina G.F., Frankovska-Gerlak M.Z., Khaludorova N.B., Chubar V.S., Solomin V.A.
POSSIBILITY OF MEDICAL SUPPORT OF PHACOEMULSIFICATION COMPLICATED WITH PSEUDOEXFOLIATION SYNDROME [№ 12 ' 2012]
Character and the postoperative course after cataract surgery complicated with pseudoexfoliation syndrome (PEX) was investigated in patients taking Doxihem (Calcium dobesilate). The efficacy of a preventive medicine correction of vascular alterations in PEX was confirmed.
Agafonov V.V., Barinov E.F., Marshava D.O., Shatskikh A.V.
MORPHO-CLINICAL PARALLELS OF COMPLICATIONS DEVELOPMENT AROSE IN AN EYE AFTER FACT INTRAOCULAR LENS IMPLANTATION [№ 12 ' 2007]

Agafonova V.V., Antonova E.G., Mitronina M.L.
TREATMENT METHOD OF HIGH DEGREE HYPEROPIA, COMPLICATED WITH AMBLYOPIA OF HIGH AND THE HIGHEST DEGREE [№ 13 ' 2004]

Agafonova V.V., Gakhramanova K.A.
METHOD OF REALIZATION OF COMPLICATED CATARACT PHACOFRAGMENTATION [№ 13 ' 2004]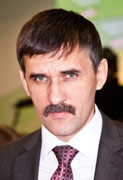 Editor-in-chief
Sergey Aleksandrovich
MIROSHNIKOV