Подача статей





Ashikkalieva K.H., Kanygina O.N., Vasilchenko A.S.
THE MODIFICATIONS OF MONOCRYSTAL SILICON SURFACE UNDER ISOTHERMIC AND LASER ANNEALINGS
The modifications of monocrystal silicon surface were studied under laser and isothermic annealings by optical, atomic-force microscopy and fractal analysis. It was shown that silicon surface had melted and periodic structures had formed on it under the laser annealing, whereas the redistribution of dislocations and formation of the oxidation film were revealed under the isothermic annealing.
Key words:
monocrystal silicon, laser annealing, isothermic annealing, dislocation, periodic structures, oxidation film.
References:
1. Svetuhin, V.V. Modeling of modern perspective silicon technologies based on management of processes of clusterization and precipitation of oxygen in silicon. — Uliyanovsk: UlSU, 2006. — 108 p.
2. Gorelik S.S., Dashevskiy M.Ya. Material science of semiconductors and dielectrics. — Moscow: Metallurgy, 1988. — 574 p.
3. Grigoryanc, A.G. Technological processes of laser treatment. — Moscow: Bauman MSTU, 2006. — 664 p.
4. Banischev A.F., Balykina E.A. The destruction of silicon surface and copper under impulse and impulse-periodic treatment of Nd:YAG laser // Quantum electronics. — 1997. — V. 24, №6. — P. 557–559.
About this article
Authors:

Ashikkalieva K.H., Kanygina O.N., Vasilchenko A.S.



Year:

2012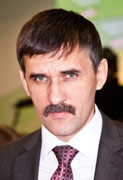 Editor-in-chief
Sergey Aleksandrovich
MIROSHNIKOV