Подача статей





Kartashov L.P., Ushakov Yu.A.
ON THE CONTROLLED PARAMETERS OF THE VACUUM SYSTEM OF MILKING INSTALLATION
The influence of the form of the technical state of milking installation to the effectiveness of the milking of cows is investigated. The connection of estimated indices (air flow rate by milking installation, the air flow rate by the regulator of vacuum, the sum of expenditures and their difference) with the parameters of vacuum system is established. The sensitivity of the controlled parameters is analyzed. The Key words: milking installation, vacuum line, [molokoprovod], milking apparatus, the air flow rate.
Key words:
milking installation, vacuum line, milk delivery line, milking apparatus, the air flow rate.
References:
1. Choi Y. The concept of creation and delivery of equipment for dairy farms on the principles of transadaptivnosti / / Mehanіzatsіya that elektrifіkatsіya sіlskogo gospodarstva. — Glevaha. — 2010. Vip. 84. — S. 15-22.
2. Lutsenko, M., Smolyar V. Instruments for Quality Control of technological processes in animal / / Tehnіka APC. — 2005. — №5-6. — S. 32-34.
3. Kirsanov V.V. Optimization of hydraulic parameters of milking machines milk line / / Mechanization and electrification of agriculture. — 2001. — №8 — S. 14-16.
4. Sirotyuk V.N., Tatarenko Y.M., Magats M.I. Energetic aspects of the milking machine / / Proceedings of the XIII International Symposium on machine milking of cows. — Gomel, 2006.
5. Fenenko A.I. Economy physiology of the actuator unit "Machine-to-animal" milking cows / / Dairy business. — 2009. — №6. — S. 27-29.
6. Shulyat'ev V.N., Surkov S.A. Theoretical analysis of vacuum milking installation mode with the milk / / Improving performance of indicators of agricultural engineering: Mater. 3rd Int. Sci. — Scient. Conf.– "Science — Technology — Resource". — Kirov: Vyatka State Agricultural Academy, 2010. -Vyp.11. — S. 233-237.
7. Savran V.P., Babkin V.P., Piskunov V.I., Gritsaenko V.I. etc. The selection and evaluation of milking machines and molokovakumnyh systems. Methodical recommendations. — Kharkov: Institute of Animal UAAS, 2002 — 82 s.
8. Novick F.S., Arsov Y.B. Process optimization technology of metals methods of design of experiments / / Moscow: Mashinostroenie, 1980. — 304 s.
About this article
Authors:

Kartashov L.P., Ushakov Yu.A.



Year:

2011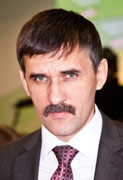 Editor-in-chief
Sergey Aleksandrovich
MIROSHNIKOV