Подача статей





Renner Y.A., Olhovaya O.N., Shajahmetova R.M., Yarkova O.N.
TO THE QUESTION ON MODELING OF FUNCTION OF THE ACCESSORY
In article results approaches to modeling of function of an accessory and realization of these approaches on an example of a problem of an estimation of market cost of the enterprise of petroleum industry are presented.
Key words:
a linguistic variable, accessory function, a term-set, market cost, casual process.
References:
1. Halov, E. I. One-dimensional multiple parameter functions of an accessory in problems of indistinct modeling and management / E.A. Halov // Mehatronika, automation, management. 2007. N 4. P. 54.
2. Olhovaja, O.N. Simulation of risk of bankruptcy the infocommunication companies [Text]: diss. the Сand. of Economics: 08.00.13 / O.N. Olhovaja; The state educational institution of the higher vocational training "Povolzh. state educational university un a telecommunications and computer science". — Samara, 2010. — 160 p.
3. Nedosekin A.O. methodological of a basis of modeling of financial activity with use of is indistinct-plural descriptions [Text]: diss. the doctor of Economics: 08.00.13 / A.O. Nedosekin; The state educational institution of the higher vocational training "the St.-Petersburg state university of economy and the finance". — SPb, 2003. — 280 p.
4. An estimation of business [Text]: textbook for high schools / under the editorship of A. G.Grjaznova, M.A.Fedotova; financial academy at the Government of the Russian Federation, institute of prof. estimation. 2nd ed., proc. and add. — М: The Finance and Statistics, 2009. — 736 p.
5. Shiryaev, А.N. Essentials of Stochastic Finance: Facts, Models, Theory. — М.: World Scientific Publishing Company, 1999. — 688 p.
About this article
Authors:

Renner Yu.A., Shayahmetova R.M., Olhovaya O.N., Yarkova O.N.



Year:

2010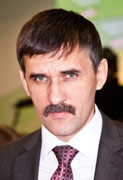 Editor-in-chief
Sergey Aleksandrovich
MIROSHNIKOV