Подача статей





Buresh, A.I., Renner A.G., Yarkova O.N.
OPTIMIZATION OF INSURANCE COMPANY INVESTMENT STRATEGY IN CASE OF SOME RISKY ASSETS [№ 1 ' 2012]
The authors proposed and implemented a method of forming an optimal portfolio of risky and riskless asset, based on maximizing the probability of non-bankruptcy of insurance company. On the example of OMI and Hull insurance contracts and showed that application of the proposed approach to the formation of investment strategy provides a higher probability values of bankruptcy than Tobin's portfolio.
Renner Y.A., Olhovaya O.N., Shajahmetova R.M., Yarkova O.N.
TO THE QUESTION ON MODELING OF FUNCTION OF THE ACCESSORY [№ 13 ' 2010]
In article results approaches to modeling of function of an accessory and realization of these approaches on an example of a problem of an estimation of market cost of the enterprise of petroleum industry are presented.
Yarkova O.N.
STUDY OF PROBABILITY OF NON-BANKRUPTCY OF AN INSURANCE COMPANY SUBJECT TO DIVERSIFICATION OF INVESTMENT AND REINSURANCE [№ 9 ' 2009]
The article reveals relation between parameters of a risk process and solvency of an insurance company, under diversification of investment, according to which investment strategy was established; author shows dependency between retention volume and probability of non-bankruptcy under different conditions of investment, analysis of which allows to work out appropriate terms of reinsurance.
Renner A.G., Yarkova O.N.
ANALYSIS OF PAYING CAPACITY OF INSURANCE COMPAN WITH TAKING INTO ACCOUNT INVESTMENTS INTO RISK ASSETS [№ 8 ' 2009]
The dependences of possibility of insurance company nonbankruptcy from the opening capital in paussonov's model of collective risk taking into account investments into risk and nonrisk assets are constructed in this article. The character of risk process parameters influence on the opening capital of a company at fix level of nonbankruptcy is revealed here. The criterion for choice of strategy of investments into risk and nonrisk assets is constructed in this work.
Renner A.G., Yarkova O.N.
MODELLING OF LABOUR RESOURCES MARKET IN THE REGION [№ 4 ' 2002]
The authors suggest to approximate the dynamic interaction of social-economic process indeces by the continuous diffusive model. They determine the initial and boundary conditions of different variants for the investigation object functioning and suggest the numerical-analytical method of working out the problem.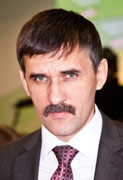 Editor-in-chief
Sergey Aleksandrovich
MIROSHNIKOV