Подача статей





Savin E.Z., Nigmatyanov М.М., Alyaeva O.V., Degtyarev N.A.
BEHAVIOR OF CLONAL APPLE-TREE STOCKS IN MANIFOLDS AND NURSERY UNDER STEPPE ZONE CONDITIONS OF THE SOUTH URAL
The article studies issues of growing clonal apple-tree stocks inside manifold of vertical layers, defines barking of sprouts, bush output, unit area output. Observations over seedlings growth have been kept on the I and II fields of a nursery. The promising clonal stocks have been marked out at the reproduction stage in 3 zones of operation: dwarf stocks — К-2, Ural 1, 76-23-2, Arm-18, Р-60; semidwarf — 64-143, Ural 5, 54-118; full-grown — 70-20-20.
Key words:
clone, stock, graft, scion budding, spring inoculation, seedling.
References:
1. Budagovskiy V.I. The culture of low-growth fruit-trees. M., 1976. p. 303.
2. Gardening practices in the South Urals. Edited by Kashin V.I., Savin E.Z. Orenburg, 2004, 486 p.
3. Mursalimova G.R. Biological characteristics of clone rootstocks and sort-rootstock combinations in the steppe South Urals. Abstract of PhD thesis in biological sciences. Orenburg, 2008, p. 26.
4. Potapov V.A. et al. Recommendations. Cultivation of young apple trees on the low-growth rootstocks in the Middle gardening zone of R.S.F.S.R. M., 1988, p. 82.
5. Potapov V.A. Low-growth gardening of Russia: history, current state, prospects for development. Collected proceedings: Low-growth gardening. Michurinsk, 1999. p. 3-8.
6. Ryabushkin Yu.B. Breeding of clone rootstocks and cultivation of fruit-tree young plants in the Lower Trans-Volga Region. Abstract of Doctoral Dissertation in Agricultural Sciences. Michurinsk, 2003, p. 47.
7. Savin E.Z. Breeding of fruit cultures, sort-rootstock combinations in the Middle Volga and South Urals. Doctoral Dissertation in Agricultural Sciences. Michurinsk, 2000, p. 72.
8. Stepanov S.N. The fruit-tree nursery. M., 1981, p.255.
9. Tatarinov A.N., Zuev V.F. The nursery for fruit and berry cultures. M., 1984, p. 270.
10. Trunov Yu.V. The catalogue of zoned and perspective types of winter-hard low-growth clone apple rootstocks selected by Michurinsk State Agrarian University. Michurinsk, 2007, p. 29.
About this article
Authors:

Nigmatyanov M.M., Savin E.Z., Alyaeva O.V., Degtyarev N.A.



Year:

2010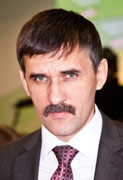 Editor-in-chief
Sergey Aleksandrovich
MIROSHNIKOV