Подача статей





Kopayev S.Yu., Askerova S.M., Kopayeva V.G., Shafiev A.Ch.
COMBINED USAGE OF NEODYMIUM YAG 1.44 ΜM AND HELIUM-NEON LASERS IN LACRIMAL APPARATUS SURGERY [№ 12 ' 2015]
A novel technique based on simultaneous action of two types of laser radiation conducted with the same optical fiber for surgical treatment of lacrimal apparatus was proposed. The laser endodissector (neodymium YAG 1.44 μm) unblocks lacrimal outflow pathways. Helium-neon laser operates in continuous mode, activates the regeneration process of damaged tissues, has anti-inflammatory (phototherapeutic) effect on the inside of mucosa lining lacrimal apparatus, serves as an optical fiber, besides that, it's a marker for operating in the pulsed mode of colorless, destroying energy of Nd-YAG laser. We operated 60 patients with the diagnosis of obliteration of nasolacrimal canal, dacryocystitis, chronic rhinitis in remission stage. The patency of lacrimal passages was restored. Complications during the surgery and in the postoperative period were not observed. In the long-term period (6–18 months) in 53 cases (88 %) lasting positive effect took place. In two cases lacrimation was noticed at forward flexion of head due to atony of the lower eyelid. Relapse of inflammation was observed in 7 patients with both rhinitis and conjunctivitis. The combined application of two types of laser energy of different target impact, performed by one optical fiber for photodisruption (Nd-YAG 1.44 μm) and phototherapeutic effect using low-intensity helium-neon laser can reduce postoperative recovery period due to the leveling of concomitant inflammatory pathology and the activation of regenerative processes.
Ginoyan A.A., Kopayev S.Yu., Kopayeva V.G.
LASER CATARACT EXTRACTION IN EYES WITH OPEN-ANGLE GLAUCOMA [№ 4 ' 2013]
69 eyes with primary open angle glaucoma undergo laser (Nd:YAG 1.44 mcm) cataract extraction and 68 glaucomatous eyes — ultrasound phacoemulsification. After laser cataract refraction postoperative hypertension were registered in less case than after the ultrasound phacoemulsification. Laser cataract extraction is less traumatic method especially for tardy stage of glaucoma. No complications which could be attributed to the specific effect of laser.
Dryagina O.B., Kopayev S.Yu., Kopayeva V.G.
NEW PROCEDURE OF LASER HEMOSTASIS IN EYE CONJUNCTIVAL VESSELS USING ND:YAG 1.44 MCM [№ 4 ' 2013]
We carried out hemostasis in conjunctival vessels in eyes of 8 rabbits. In each rabbit we employed 1.44 mcm Nd:YAG laser in one eye and diathermy in the fellow eye. Laser hemostasis produces leaves smaller conjunctiva de-epithelization area and causes vessel occlusion without any inflammatory reaction and necrosis. Defect epithelization completes three times faster without scar formation.
Kopayeva V.G., Kopayev S.Y.
DIGNITY OF RUSSIAN TECHNOLOGY OF LASER CATARACT EXTRACTION [№ 12 ' 2012]
The Russian technology of laser cataract extraction (Nd:YAG laser with 1.44 mcm wavelength) is effective in removal of any nucleus hardness. The tip and tissues of the eye are not overheated. The nucleus is cracked spontaneously under the radiation effect. It is safe for surrounding tissues.
Kopaev E.N.
THE RULING ELITE IN THE SYSTEM OF SOCIAL RELATIONS [№ 7 ' 2010]
Topicality of studying elite today is promoted by new opportunities opened to native social science, as well as constant transformations taking place in the Russian society. From the philosophic point of view this problem requires for development of methodological base, as well as clarification of ontological status of such category as "the elite". Subject of inquiry is the ruling elite in the context of the system of social relations.
Kravchuk O.V., Kopaeva V.G.
COMPARATIVE ANALYSIS OF MORPHOMETRIC CHARACTERISTICS OF BACK EPITHELIUM OF CORNEA AFTER ENERGY SURGERY OF CATARACT [№ 12 ' 2007]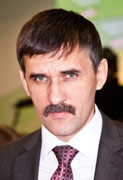 Editor-in-chief
Sergey Aleksandrovich
MIROSHNIKOV