Подача статей





Kopaev E.N.
THE RULING ELITE IN THE SYSTEM OF SOCIAL RELATIONS
Topicality of studying elite today is promoted by new opportunities opened to native social science, as well as constant transformations taking place in the Russian society. From the philosophic point of view this problem requires for development of methodological base, as well as clarification of ontological status of such category as "the elite". Subject of inquiry is the ruling elite in the context of the system of social relations.
Key words:
elite, ruling elite, governing class, system of social relations, institutional setting.
References:
1. Ashin GK The Science of elites and elite / power. 2004. № 1.
2. Ashin GK Myth of the elite and mass society. – M., 1966.
3. Ashin GK Elitologiya. – M., 2005.
4. Ashin GK, Ponedelkov AV, Ignatov, VG, Starostin AM Fundamentals of political elitologii. – M., 1999.
5. Wesolowski V. classes, layers, and power. – M., 1981.
6. Malkov, VL "New Deal" in the U.S.. – M., 1973.
7. Mannheim K. Diagnosis of our time. – M., 1994.
8. Narta M. Theory of elites and policy. – M., 1978.
9. Philosophical Encyclopedia. – M., 1983.
10. Keller S. Beyond the Ruling Class. Strategic Elites in Modern Society. – N.Y., 1969.
11. Kourvertatis G., Dobratz B. Political Sociology. – New Brunswick – L.,1980.
12. Ng S.H. The Social Psychology of Power. – N.Y. – L., 1980.
13. Pareto V. Mind and Society. – N.Y., 1935. V. 4.
14. Prewitt K., Stone A. The Ruling Elites. – N.Y., 1974.
About this article
Author:

Kopaev E.N.



Year:

2010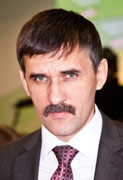 Editor-in-chief
Sergey Aleksandrovich
MIROSHNIKOV