Подача статей





Dryagina O.B., Kopayev S.Yu., Kopayeva V.G.
NEW PROCEDURE OF LASER HEMOSTASIS IN EYE CONJUNCTIVAL VESSELS USING ND:YAG 1.44 MCM
We carried out hemostasis in conjunctival vessels in eyes of 8 rabbits. In each rabbit we employed 1.44 mcm Nd:YAG laser in one eye and diathermy in the fellow eye. Laser hemostasis produces leaves smaller conjunctiva de-epithelization area and causes vessel occlusion without any inflammatory reaction and necrosis. Defect epithelization completes three times faster without scar formation.
Key words:
1.44 mcm Nd:YAG laser, laser and diathermy hemostasis in conjunctival vessels.
References:
1. Dryagina O.B., Kopayeva V.G., Kopayev S.Yu., Pytskaya N.V. Method of distant laser coagulation of conjunctival vessels: Patent RU №2376963.– Priority 09.07.2008
2. Kopaeva V.G., Andreev Yu.A. Laser cataract extraction. //Ed. by Takhchidi Kh.P.– Moscow.-2011.-262p.
3. Kopaeva V.G., Yakub R., Dryagina O.B., Kopaev S.Yu., Ginoyan A.A. Laser cataract surgery in pseudoexfoliation syndrome // Lazernaya meditsina, 2011, issue 2, — P. 99
4. Kopaeva V.G., Kopaev S.Yu. Main achievements of Russian laser cataract surgery // Vestnik OSU, 2012, issue 12. — P. 94-98
5. Takhchidi Kh.P., Kopayev S.Yu., Kopayeva V.G., Shcherbakov M.I. Thermovisometry of working tips in energy-utilizing cataract surgery// Oftalmologia.– 2009.– issue 1.– P. 47-51
About this article
Authors:

Kopaev S.Yu., Kopaeva V.G., Dryagina O.B.



Year:

2013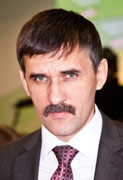 Editor-in-chief
Sergey Aleksandrovich
MIROSHNIKOV