Подача статей





Balalin S.V., Fokin V.P.
THE USE OF TRAVOPROST IN THE TREATMENT OF PRIMARY OPEN-ANGLE GLAUCOMA [№ 12 ' 2015]
The results of the use of travoprost in the treatment of 186 patients with primary open-angle glaucoma (224 eyes). The selection of patients for medical treatment carried out on the basis of achieving the target intraocular pressure after instillation of 0.004 % solution of Travatan. 24 hours after instillation of the drug in patients performed repeated measurements of IOP investigated field of view, the ocular pulse is determined and the target tolerant intraocular pressure. Reducing elevated intraocular pressure to tolerance was assessed by improving hemodynamic parameters of the study eye ocular pulse: increasing the value of the elasticity index of intraocular vessels (IEIV) over 1.3 mm3/mm Hg and an index of the adequacy of blood supply to the eye, which should be less than 12 mm Hg/mm3. Intraocular pressure amid instillation Travatan decreased from (22,6 ± 0,1) mm Hg up to (14,5 ± 0.1) mm Hg — 8.1 mm Hg (35.8 %) and it was 2.0 mm Hg below the average pressure tolerant (16,5 mm Hg ± 0.1 mm Hg). Tackling drug treatment using travatanovoy samples and identify tolerant IOP allowed to stabilize glaucomatous process against the background of medical treatment during the year in 96.8 % of cases (217 eyes). The results confirm the practical value travatanovoy sample and determine the clinical significance of a tolerant and target pressure in patients with primary open angle glaucoma. In order to achieve the stabilization of visual functions needed to fluctuations in intraocular pressure against the background of medical treatment did not exceed the tolerance pressure.
Fokin V.P., Ezhova E.A., Balalin S.V.
CONTACT CORRECTION OF AMETROPIA AFTER LASIK [№ 12 ' 2015]
We observed 20 patients who had previously been held excimer laser vision correction. The median age was — 26.8 ± 0.27 years. Patients were divided into two groups of 10 (10 eyes). In group 1 uncorrected visual acuity (UNCA) averaged 0.24 ± 0.01, sphere-equivalent (SE) — 1.58 ± 0.1 diopters, best corrected visual acuity (BCVA) — 0.98 ± 0.01. In group 2 UNCA averaged 0.23 ± 0.01, SE — 1.63 ± 0.1 diopters, BCVA — 0.99 ± 0.01. Patients in one group were assigned to the soft contact lens (SCL) ("1-Day Acuvue TruEye") in daily wear. Patients in group 2 were assigned orthokeratology contact lenses (OKL) ("Emerald"), used during sleep. Research UNCA, BCVA, SE, holding biomicroscopy was performed at 1, 3 and 6 months after the appointment of a contact lens (CL). Within 1 month of observation in the appointment of CL was obtained significant (p < 0.05) increase and decrease UNCA, SE in group 2. Significant differences in BCVA between the use of OKL and SCL has not been received (p > 0.05), which indicates a positive effect on the equivalent of both options on the parameters KL BCVA. Using OKL, as well as SCL, allows to obtain high functional results of vision correction, and given a certain congruence of OKL and the profile of the cornea after LASIK, provides an additional opportunity to achieve a stable and comfortable vision for the patient.
Balalin S.V., Fokin V.P.
OPTIC NERVE TOLERANCE AND INTOLERANCE IN NORMAL TENSION GLAUCOMA [№ 12 ' 2014]
Definition of tolerant intraocular pressure and sensitivity index of the optic nerve to the intolerance of IOP with enhanced diagnostic capability of primary open-angle glaucoma. Normal pressure glaucoma should be considered as one of the clinical entities of primary open-angle glaucoma with a low level of tolerance of the optic nerve.
Ezhova E.A., Melikhova I.A., Balalin S.V., Makovkin E.M.
CYTOMORPHOLOGICAL AND BIOMECHANICAL CHANGES IN CORNEA ASSOCIATED WITH APPLICATION OF ORTHOKERATOLOGICAL CONTACT LENSES IN MYOPIC CHILDREN AND ADOLESCENTS [№ 12 ' 2014]
Corneal status was assessed in 54 myopic patients (108 eyes) by means of confocal microscopy and rigidometry of corneoscleral membrane before and over the period of orthokeratological lens application. It was revealed that confocal microscopy enables evaluating cytomorphological changes in cornea, while rigidometry makes it possible to assess biomechanical after-effects of OCL wearing as well as their safety on a customized basis with regard to histomorphological state of corneal structures, findings of corneoscleral rigidity factor and level of intraocular pressure.
Balalin S.V., Fokin V.P.
RISK FACTORS AND TOLERANT INTRAOCULAR PRESSURE IN PATIENTS WITH PRIMARY OPEN-ANGLE GLAUCOMA [№ 4 ' 2013]
A study of target intraocular pressure was performed basing on values of tolerant pressure in 1310 patients (1638 eyes) with primary open-angle glaucoma. It was established that level of tolerant and target intraocular pressure tends to decrease with age increment, elongation of anterior-posterior eye globe dimension, aggravation of glaucoma stage. Increase of diastolic blood pressure in brachial artery is characterized by growth of tolerant and target values of intraocular pressure.
Boriskina L.N., Balalin S.V., Makovkin E.M.
CORNEOSCLERAL RIGIDITY AS A CUMULATIVE BIOMETRIC PARAMETER [№ 4 ' 2013]
Examination of corneoscleral rigidity by means of dynamic differentiated tonometry was performed in 640 healthy persons (640 eyes). Rigidity factor is a cumulative parameter, comprising various characteristics, such as age, corneal thickness, anterior-posterior ocular globe size, clinical refraction.
Shunkevitch O.N., MelikhovaI.A., BoriskinaL.N., BalalinS.V.
ROLE OF DESCEMETOGONIOPUNCTURE IN NORMALIZATION OF INTRAOCULAR PRESSURE IN CASES OF IOP ELEVATION IN THE EARLY POSTOPERATIVE PERIOD AFTER MICROINVASIVE NON-PENETRATING DEEP SCLERECTOMY [№ 12 ' 2012]
There were analyzed reasons, inducing elevation of intraocular pressure in 49 patients (49 eyes) with primary open-angle glaucoma in 1–3 months following microinvasive non-penetrating deep sclerectomy. A high thickness of trabecular Descemet membrane and presence of hypoechoic contents within the intrascleral space are the main factors leading to worsening of aqueous humor outflow and elevation of IOP in the early postoperative period. Normalization of IOP level basing on findings of ultrasound biometry was achieved in all the patients due to laser Descemetogoniopuncture.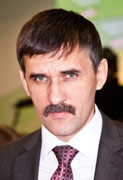 Editor-in-chief
Sergey Aleksandrovich
MIROSHNIKOV