Подача статей





Fokin V.P., Ezhova E.A., Balalin S.V.
CONTACT CORRECTION OF AMETROPIA AFTER LASIK
We observed 20 patients who had previously been held excimer laser vision correction. The median age was — 26.8 ± 0.27 years. Patients were divided into two groups of 10 (10 eyes). In group 1 uncorrected visual acuity (UNCA) averaged 0.24 ± 0.01, sphere-equivalent (SE) — 1.58 ± 0.1 diopters, best corrected visual acuity (BCVA) — 0.98 ± 0.01. In group 2 UNCA averaged 0.23 ± 0.01, SE — 1.63 ± 0.1 diopters, BCVA — 0.99 ± 0.01. Patients in one group were assigned to the soft contact lens (SCL) ("1-Day Acuvue TruEye") in daily wear. Patients in group 2 were assigned orthokeratology contact lenses (OKL) ("Emerald"), used during sleep. Research UNCA, BCVA, SE, holding biomicroscopy was performed at 1, 3 and 6 months after the appointment of a contact lens (CL). Within 1 month of observation in the appointment of CL was obtained significant (p < 0.05) increase and decrease UNCA, SE in group 2. Significant differences in BCVA between the use of OKL and SCL has not been received (p > 0.05), which indicates a positive effect on the equivalent of both options on the parameters KL BCVA. Using OKL, as well as SCL, allows to obtain high functional results of vision correction, and given a certain congruence of OKL and the profile of the cornea after LASIK, provides an additional opportunity to achieve a stable and comfortable vision for the patient.
Key words:
LASIK, myopia, soft contact lenses, orthokeratology contact lenses.
About this article
Authors:

Fokin V.P., Ezhova E.A., Balalin S.V.



Year:

2015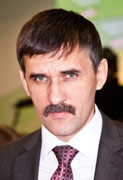 Editor-in-chief
Sergey Aleksandrovich
MIROSHNIKOV