Подача статей





Balalin S.V., Fokin V.P.
THE USE OF TRAVOPROST IN THE TREATMENT OF PRIMARY OPEN-ANGLE GLAUCOMA
The results of the use of travoprost in the treatment of 186 patients with primary open-angle glaucoma (224 eyes). The selection of patients for medical treatment carried out on the basis of achieving the target intraocular pressure after instillation of 0.004 % solution of Travatan. 24 hours after instillation of the drug in patients performed repeated measurements of IOP investigated field of view, the ocular pulse is determined and the target tolerant intraocular pressure. Reducing elevated intraocular pressure to tolerance was assessed by improving hemodynamic parameters of the study eye ocular pulse: increasing the value of the elasticity index of intraocular vessels (IEIV) over 1.3 mm3/mm Hg and an index of the adequacy of blood supply to the eye, which should be less than 12 mm Hg/mm3. Intraocular pressure amid instillation Travatan decreased from (22,6 ± 0,1) mm Hg up to (14,5 ± 0.1) mm Hg — 8.1 mm Hg (35.8 %) and it was 2.0 mm Hg below the average pressure tolerant (16,5 mm Hg ± 0.1 mm Hg). Tackling drug treatment using travatanovoy samples and identify tolerant IOP allowed to stabilize glaucomatous process against the background of medical treatment during the year in 96.8 % of cases (217 eyes). The results confirm the practical value travatanovoy sample and determine the clinical significance of a tolerant and target pressure in patients with primary open angle glaucoma. In order to achieve the stabilization of visual functions needed to fluctuations in intraocular pressure against the background of medical treatment did not exceed the tolerance pressure.
Key words:
open-angle glaucoma, medication, travoprost.
About this article
Authors:

Balalin S.V., Fokin V.P.



Year:

2015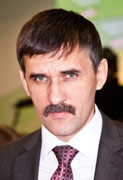 Editor-in-chief
Sergey Aleksandrovich
MIROSHNIKOV