Подача статей





Dmitrieva N.M., Porol O.A.
PECULIARITIES OF VERBALIZATION OF THE CONCEPT "HOLINESS" IN THE CHURCH SLAVONIC AND OLD RUSSIAN LANGUAGES: THE ETHICAL DIMENSION
The concept of "holiness" contains a high ethical burden, is the peak mental moral values. Verbalization of the concept, however, little studied in linguistics. The origins of the dominant ethical burden of verbalization of the concept of "holiness" lies in old Church Slavonic and old Russian languages. An appeal to the dictionaries of this period enables us to identify the ethical fullness of the concept of "holiness", formed by Christian ideology. Comparative analysis of ethical meanings, characteristic of the dominant verbalization concept in old Church Slavonic and old Russian languages (Holiness, Holy, Saint, priesthood, light) allows one to identify the ethical meaning of the fraction concept "holiness": 1) "right believer"; "dedicated"; "all-perfect; righteous; living according to the rules prescribed by the faith", "enlightened by the light of the gospel teachings", "light, clean, immaculate", "sacrament of God"; 2) "with the Holy, blameless, righteous"; "ordained"; "sacred; based on the rules of faith"; "imbued with a sacred authority, sanctifying power", "associated with the Holy, belonging to the Holy"; "Holy, divine; pure, free"; "performing the commandments of God"; 3) "what makes a clear, comprehensible world"; "what makes a joyful, happy life"; "spiritual light"; "clean, pure"; "good, kind"; "blissful"; "education (about baptism)"; "piety". Share ethical meaning of the concept "holiness", implemented in the semantics of the dominant verbalization demonstrate the importance of the mental concept and its inclusion in the ethical sphere of concepts, along with concepts: God, faith, grace, Truth (Christ), truth, truth, righteousness, justice, unity, joy, wonder, piety, honesty, chastity, etc. over the whole study period verbalizing the main concept and their derivatives are highly ethical significance and of constant positive connotation. However, among verbalisation there are a number of ethical words with "opposite" values, which stresses the importance of the concept in Russian mentality.
Key words:
concept, verbalization concept, ethical loading and ethical meaning of the share mentality, holiness.
References:
1.Vendina, T.I. Srednevekovyj chelovek v zerkale staroslavjanskogo jazyka [Medieval man in the mirror of old Church language]. — М.: Indrik, 2002. — 336 p.
2.Vereshhagin, E.M. Cerkovnoslavjanskaja knizhnost na Rusi. Lingvotekstologicheskie izyskanija [Literary Church Slavonic in Russia. Linguotextology surveys]. — М.: Indrik, 2001. — 608 p.
3.Vereshhagin, E.M., Kostomarov, V.G. Lingvostranovedcheskaja teorija slova [Linguistic theory of the word]. — M.: Russkij jazyk, 1980. — 320 р.
4.Vinogradov, V.V. Istorii slov: Ok. 1500 slov i vyrazhenij i bolee 5000 slov s nimi svjazannyh [History of words: Approx. 1500 words and phrases and more than 5000 words associated with them]. — M.: IRJa, 2000. — 1138 р.
5.Vorobev, V.V. Lingvokulturologija (teorija i metody): Monografija [Lingvocultural (theory and methods)]. — M.: Izd-vo RUDN, 1997. — 331р.
6.Dyachenko G. Polnyj cerkovno-slavjanskij slovar [Unabridged Church Slavonic dictionary]. — М., Оtchij dom, 2001. — 720 p.
7.Zaliznjak, A.A., Levontina, I.B., Shmelev, A.D. Kljuchevye idei russkoj jazykovoj kartiny mira. Sb.st. [The key ideas of Russian language picture of the world]. — M.: Jaz.slav.kul'tury, 2005. — 540 р.
8.Kolesov, V.V. Russkaja mental'nost' v jazyke i tekste [Russian mentality in language and text]. — SPb.: Peterburgskoe Vostokovedenie, 2006. — 624 р.
9.Polnyj pravoslavnyj bogoslovskij jenciklopedicheskij slovar [Full Orthodox theological encyclopedic dictionary]. — SPb.: Izdatelstvo P.P. Sojkina, 1913.
10.Slavjanskie drevnosti: jetnolingvisticheskij slovar pod red. N.I. Tolstogo: v 5 t. [Slavic antiquities: ethnolinguistic dictionary under the editorship of N.A. Tolstoy: 5 t.]. — M.: Mezhdunarodnye otnoshenija, 1995.
11.Slovar russkogo yazika XI — XVII vv. V.21 [Dictionary of Russian of the XI-XVII centuries. Release 23]. — М.: Nauka — Science, 1996. — 253 p.
12.Sreznevsky I. Slovar drevnerusskogo jazyka. V 3 t. T.3 [Dictionary of Old Russian language. In 3 t] / I. Sreznevsky. — M.: Kniga — Book, 1989.
13.Stepanov Yu.S. Konstanty: Slovar russkoj kultury [Constants: Dictionary of the Russian culture] / Yu.S. Stepanov. — M., 2001. — P. 419.
14.Toporov, V.N. Svjatost i svjatye v russkoj duhovnoj kulture: Tom 1. Pervyj vek hristianstva na Rusi [Holiness and saints in Russian spiritual culture: Volume 1. The first century of Christianity in Russia] / V.N. Toporov. — M.: Gnozis — Shkola "Jazyki russkoj kultury", 1995. — 875 p.
15.Fasmer M. Jetimologicheskij slovar: V 4 t. T.3. [Etymological dictionary]. — M.: ASTREL-AST, 2003 — 832 р.
16.Fedotov, G.P. Svjatye Drevnej Rusi [The Saints of Ancient Russia] / G.P. Fedotov. — M.: Moskovskij rabochij, 1991.
17.Ethics: the Encyclopedic dictionary / University of philosophy by Russian Academy Science. М: Gardariki, 2001.
About this article
Authors:

Dmitrieva N.M., Porol O.A.



Year:

2016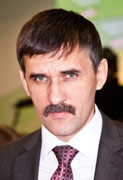 Editor-in-chief
Sergey Aleksandrovich
MIROSHNIKOV