Подача статей





Muldashev E.R., Kornilaeva G.G., Muslimov S.A., Karushin O.I., Kornilaeva M.P., Gafarov I.Z.
RETINAL AND OPTIC NERVE MORPHOLOGICAL CHANGES IN DRAINING OF THE RABBIT EYEBALL POSTERIOR PART
There was used a model of the optic nerve experimental neuritis accompanied by the introduction of methyl alcohol into the rabbit retrobulbar space. The enucleated eyeballs following the drainage surgery of the eyeball posterior part with the use of spongy allograft of a new generation were investigated by histological methods. It was revealed that the surgery retards the development of pathologic processes in the optic nerve and eye tunics.
Key words:
optic nerve neuritis, optic nerve atrophy, spongiform allograft.
References:
1. Kornilaeva, G.G. Formation mechanism of intraocular fluid outflow ways when allogeneic biomaterial is used as a drainage in experimental glaucoma / G.G. Kornilaeva, S.A. Muslimov, S.N. Nadolskaya // Ophthalmosurgery. — 2003. — N.2. — P. 1–4.
2. Kostiv, V.Ya. Risk factors and prognosis potentials of retrobulbar neuritis chronicity : PhD abstract of thesis / V.Ya. Kostiv. — Krasnoyarsk. — 2009. — P. 22.
3. Libman, E.S. Blindness and invalidism due to the organ of vision pathology in Russia / E.S. Libman, E.V. Shakhova // Vestnik of ophthalmology. — 2006. — N.1. — P. 35–37.
4. Lopatina, T.I. General characteristics of primary disablement due to the eye pathology in Krasnoyarsk region from 2000 through 2002 / T.I. Lopatina, V.V. Soloviev // Collection of articles of the interregional conference of ophthalmologists dedicated to the 40-th anniversary of children's ocular service.
5. Morphology of spongy allograft in long-term follow-up after the antiglaucomatous surgery / L.A. Musina [et al.] // Vestnik of Orenburg State University. — 2013. — N.4. — P. 178–180.
6. Temirov, N.E. Morphological characteristics of optic nerve experimental neuritis / N.E. Temirov, E.A. Nesterov, S.N. Panchenko.
7. Krupaszky, H.G. Temporal trends in the etiology of blindness / H.G. Krupaszky // Klin. Monbl. Augenheilkd. — 1997. — №210(2). — Р. 9–16.
About this article
Authors:

Muldashev E.R., Kornilaeva G.G., Muslimov S.A., Karushin O.I., Kornilaeva M.P.



Year:

2014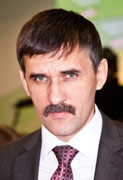 Editor-in-chief
Sergey Aleksandrovich
MIROSHNIKOV