Подача статей





Muldashev E.R., Kornilaeva G.G., Muslimov S.A., Karushin O.I., Kornilaeva M.P., Gafarov I.Z.
RETINAL AND OPTIC NERVE MORPHOLOGICAL CHANGES IN DRAINING OF THE RABBIT EYEBALL POSTERIOR PART [№ 12 ' 2014]
There was used a model of the optic nerve experimental neuritis accompanied by the introduction of methyl alcohol into the rabbit retrobulbar space. The enucleated eyeballs following the drainage surgery of the eyeball posterior part with the use of spongy allograft of a new generation were investigated by histological methods. It was revealed that the surgery retards the development of pathologic processes in the optic nerve and eye tunics.
Musina L.A., Muslimov S.A., Kornilaeva G.G., Solovyeva E.P., Kornilaeva M.P.
THE MORPHOLOGY OF SPONGE ALLOGRAFT IN THE LONG-TERM PERIOD FOLLOWING THE ANTIGLAUCOMATOUS SURGERY [№ 4 ' 2013]
The enucleated eye balls of four patients who earlier underwent antiglaucomatous surgery using a sponge allograft have been investigated by histologic and electron-microscopic methods. It was revealed that in the long-term period (up to 8 years) following the surgery there had been detected the tissue on the place of the allograft similar to the eye trabecular meshwork structure maintaining drainage properties.
Volgareva E.A., Muslimov S.A., Musina L.A., Kornilaeva G.G.
ROLE OF MELANOCYTES IN CHOROIDS AT GLAUCOMA PATHOGENESIS [№ 12 ' 2007]

Muldashev E.P., Kornilaeva G.G., Galimova E.V., Karushin O.I., Kornilaeva M.P., Polyakova E.Yu.
PREVENTION OF CICATRISATION OF POSTOPERATIVE ZONE WITH SPONGY BIOMATERIAL "ALLOPLANT" DURING SURGICAL TREATMENT OF INITIAL GLAUCOMA [№ 13 ' 2004]

Muldashev E.R., Kornilaeva G.G., Polyakova E.Yu., Kornilaeva M.P., Galimova E.V.
SURGICAL TREATMENT OF CONGENITAL GLAUCOMA WITH USING OF BIOMATERIAL ALLOPLANT [№ 13 ' 2004]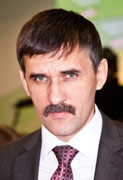 Editor-in-chief
Sergey Aleksandrovich
MIROSHNIKOV