Подача статей





Muldashev E.R., Kornilaeva G.G., Muslimov S.A., Karushin O.I., Kornilaeva M.P., Gafarov I.Z.
RETINAL AND OPTIC NERVE MORPHOLOGICAL CHANGES IN DRAINING OF THE RABBIT EYEBALL POSTERIOR PART [№ 12 ' 2014]
There was used a model of the optic nerve experimental neuritis accompanied by the introduction of methyl alcohol into the rabbit retrobulbar space. The enucleated eyeballs following the drainage surgery of the eyeball posterior part with the use of spongy allograft of a new generation were investigated by histological methods. It was revealed that the surgery retards the development of pathologic processes in the optic nerve and eye tunics.
Musina L.A., Muslimov S.A., Kornilaeva G.G., Solovyeva E.P., Kornilaeva M.P.
THE MORPHOLOGY OF SPONGE ALLOGRAFT IN THE LONG-TERM PERIOD FOLLOWING THE ANTIGLAUCOMATOUS SURGERY [№ 4 ' 2013]
The enucleated eye balls of four patients who earlier underwent antiglaucomatous surgery using a sponge allograft have been investigated by histologic and electron-microscopic methods. It was revealed that in the long-term period (up to 8 years) following the surgery there had been detected the tissue on the place of the allograft similar to the eye trabecular meshwork structure maintaining drainage properties.
Muslimov D.F.
THE ONTOLOGICAL STATUS OF THE ABSOLUTE: EPISTEMOLOGICAL ANALYSIS [№ 7 ' 2012]
The article deals with the epistemological aspects of the ontological status of the Absolute. Spiritual life plays an absolute, since the man in his spiritual genesis is the offspring of the Transcendent One, the Absolute. Man finds himself in the world and the world does not need knowledge of the requirements of the external and internal intuitive adherence to fact. The ontological status of the Absolute is revealed in a person through his "presence here and now", through its relative reality, and his divine identity — through his human "I".
Muslimov D.A., Lelyukhin A.S.
ON THE CONTROL OF OUTPUT PARAMETERS FOR X-RAY SOURCES [№ 1 ' 2011]
In this paper we consider a system of non-invasive monitoring of parameters for X-ray emitters. We propose using a discrete linear detector based on gallium arsenide as the transmitter. It is shown that by the nature of radiation attenuation in the detector substance it is possible finding the values of the effective energy of the beam, the boundary energy in the radiation spectrum, and restoring the spectral composition of radiation by the entrance of the detector.
Volgareva E.A., Muslimov S.A., Musina L.A., Kornilaeva G.G.
ROLE OF MELANOCYTES IN CHOROIDS AT GLAUCOMA PATHOGENESIS [№ 12 ' 2007]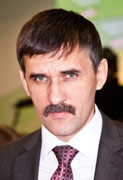 Editor-in-chief
Sergey Aleksandrovich
MIROSHNIKOV