Подача статей





Kanygina O.N., Anisina I.N., Chetverikova A.G., Salnikova E.V.
MONTMORILLONITE CONTAINING CLAY FROM ORENBURG REGION AS THE RAW MATERIAL FOR FUNCTIONAL CERAMICS
The availability of nature montmorillonite containing clay as the raw material for functional ceramics is determined. It is demonstrated that the choice of disperse composition of clay set of drying and sintering kinetics, the evolution of structure with wide spectrum of characteristics.
Key words:
montmorillonite containing clay, size fraction.
References:
1. Gur'yeva, V. A. The Foundation of Patterning and Building Ceramic Technology Based on Alum Magnesia Raw Material: dis. … Doctor of Science: 05.23.05 / V.A. Gur'yeva ; Samars. gos. arhitektur. — stroit. un-t. — Samara, 2011. — 422 s.
2. Dubenok, N. N. Natural and technogenic factors of natural radioactivity in soils of Central Russia / N.N. Dubenok, S.A. Tobratov, Ju.A. Mozhaisky, G.A. Kononova, Ju.A. Kondrashova // Doklady Rossiiskoi akademii sel'skohozyaistvennyh nauk. — 2010. — №4. — S. 27-31.
3. Stefanenko, I. V. Measures for ensuring protection of the population and workers from negative influence of natural radionuclides at construction of buildings and constructions / I.V. Stefanenko // Vestnik VolgGASU. Ser.: Str-vo i arhit. — 2010. — Vyp. 18 (37). — S.153-158.
4. "Orenburzhye" — Portal of the Government of the Orenburg region — Access mode: http://www.orenburg-gov.ru/
5. Dispersive analysis montmorillonite-bearing of clay of Orenburzhye / O.N. Kanygina, O.S. Kravtzova, I.N. Anisina, A.G. Chetverikova, E.V. Salnikova, T.M. Dostova, A.A. Tkachenko // Vestnik Orenburgskogo gosudarstvennogo universiteta. — 2011. — №12, dekabr'. — S. 393-395.
6. Standards of radiation safety. Ionizing radiation, radiation safety. SP 2.6.1.758-98. — M.: Minzdrav Rossii, 1999.
7. Anisina, I.N. The Synthesis of Siliceous Ceramics. The Analysis of Physical and Chemical Processes in Ceramics Production from montmorillonite clay: monograph / I.N. Anisina, O.N. Kanygina, A.G. Chetverikova. — LAP LAMBERT Academic Publishing (2012-12-20). — 92с.– ISBN: 978-3-8454-2805-5.
8. Gorshkov, V.S. Physical chemistry of silicates and other refractory connections / V.S. Gorshkov, V.G. Savel'ev, N.F. Fedorov. — M.: Vyssh.shk., 1988. — 400 s.
About this article
Authors:

Kanygina O.N., Anisina I.N., Chetverikova A.G., Salnikova E.V.



Year:

2013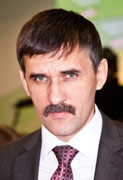 Editor-in-chief
Sergey Aleksandrovich
MIROSHNIKOV