Подача статей





Miroshnikov S.V., Notova S.V., Kiyaeva E.V., Alidzhanova I.E., Slobodskov A.A.
FEATURES OF HAIR AND VARIOUS THYROID STRUCTURES ELEMENT COMPOSITION IN ENDEMIC IODINE DEFICIENCY REGION
The results of the study of the element composition of the hair and the various structures of the thyroid gland of women living in the Orenburg region are presented. It is established that in the pathogenesis of proliferation of thyroid cells leading to the formation of nodular thyroid pathology not only iodine is important. Cd, Sn, Ni, Zn and Cu participate in the disruption of expression of autocrine growth factors in the thyroid gland.
Key words:
trace elements, low-normal TSH value, high-normal TSH value
References:
1. Skalny, A.V. Referential concentrations of chemical elements in the hair, obtained by ICP-AES / AV Skalny / / Trace elements in medicine. — 2003. — Volume 4, №. 1. — p. 55-56.
2. Gophers, V.L. Geochemical ecology of disease. T. 2. Atomovity / V.L. Suslikov. — M.: Helios ARV, 2000. — 672 p.
3. Skalny, A.V. Ecological and physiological basis of the efficiency of the use of macro-and micronutrients in disorders of homeostasis in the subjects of the different climatic regions: dis.... Dr. med. sciences: 14.00.17 / A.V. Skalny. — M., 2000. — 352 p.
4. Human microelementoses: etiology, classification, organopathology / A.P. Avtsyn, A.L. Lark, M.L. Riesch, L.S. Strochkova. — Moscow: Medicine, 1991. — 496 p.
5. Notova, S.V. Ecological and physiological basis of correcting the influence of the element status in the functional reserve of the human body: dis.... Dr. med. sciences: 03.00.13 / S.V. Notova. — Moscow, 2005. — 314 p.
About this article
Authors:

Miroshnikov S.V., Notova S.V., Kiyaeva E.V., Alidzhanova I.E., Slobodskov A.A.



Year:

2013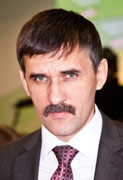 Editor-in-chief
Sergey Aleksandrovich
MIROSHNIKOV