Подача статей





Antsiferova N.G., Puzyrevskiy K.G., Plisov I.L., Chernykh V.V.
SURGICAL TREATMENT OF EXOPHORIA WITH V SYNDROME WITHOUT HYPERFUNCTION INFERIOR OBLIQUES MUSCLES
Traditionally, the surgical treatment of patients with latent exophoria limited correction of deviation only horizontally to achieve ortoposition in primary position. Compass calibration in all positions of gaze, revealed exophoria complicated by V syndrome without hyperactivity inferior oblique muscles. Surgical treatment by vertical transposition of horizontal muscle action combined with correction of the horizontal deviation use median dublication, allowed to achieve stable functional result in a state of V syndrome.
Key words:
exophoria, V syndrome, the median dublication, vertical transposition.
References:
1. Avetisov E.S. Concomitant strabismus. — M.: Medicine, 1977. — 286 р.
2. Kashchenko T.P. The study of binocular vision using color filters / T.P. Kashchenko, M.M. Tarastsova // Ophthal. Journal. — 1985. — No 8. — P.498-500.
3. Pospelov V.I. To classification of children heterophoria / V.I. Pospelov, L.A. Khrebtova // Ophthal. Journal. — 1986. — No 1. — P.10-12.
4. Urist M. J. The etiology of the so-called "A" and "V" syndromes/ M. J. Urist // Am. J. Ophthalmol. — 1958. — Vol. 46. — No 6. — P. 835-844.
5. Villaseca A. The A and V syndromes / A.Villaseca // Am. J. Ophthalmol. — 1961. –Vol.52. — P.172.
6. Knapp P. A and V patterns/ P.Knapp // Symposiumon strabismus. Transactions of the New Orleans Academy of Ophthalmology. — St. Louis, 1971, Mosby–Year Book, Inc. — P. 242.
7. Yemchenko V.I. To the question of surgical treatment of V exotropia / V.I. Yemchenko // Ophthal. Journal. — 1995. –No 2. — P. 95-97.
8. Noorden G.K. Horizontal transposition of the phenomena of vertical rectus muscles for treatment of ocular torticollis / G.K. Noorden, R.H. Jenkins, A.L. Rosenbaum // J Pediatr Ophthalmol Strabismus. — 1993. — Vol.30. — No1. — P. 8-14.
9. The method of inconcomitant strabismus treatment /Puzyrevskiy K.G., Antsiferova N.G., Plisov I.L.: Pat. of the Russian Federation. RU 2446779, 2012.
10. The abolition method of strabismus by the method of median dublication / Puzyrevskiy K.G., Antsiferova N.G., Plisov I.L.:Pat. of the Russian Federation RU 2302843, 2007.
About this article
Authors:

Chernyh V.V., Antsiferova N.G., Puzyrevskiy K.G., Plisov I.L.



Year:

2013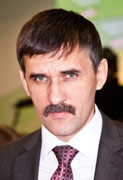 Editor-in-chief
Sergey Aleksandrovich
MIROSHNIKOV