Подача статей





Antsiferova N.G., Puzyrevskiy K.G., Plisov I.L., Chernykh V.V.
SURGICAL TREATMENT OF EXOPHORIA WITH V SYNDROME WITHOUT HYPERFUNCTION INFERIOR OBLIQUES MUSCLES [№ 4 ' 2013]
Traditionally, the surgical treatment of patients with latent exophoria limited correction of deviation only horizontally to achieve ortoposition in primary position. Compass calibration in all positions of gaze, revealed exophoria complicated by V syndrome without hyperactivity inferior oblique muscles. Surgical treatment by vertical transposition of horizontal muscle action combined with correction of the horizontal deviation use median dublication, allowed to achieve stable functional result in a state of V syndrome.
Plisov I.L., Puzyrevskiy K.G., Antsiferova N.G., Atamanov V.V.
STRABISMUS AFTER COMBINED CRANIAL AND ORBITAL TRAUMA: CLINIC, DIAGNOSTIC, AND TREATMENT [№ 4 ' 2013]
We analyzed the functional and cosmetic results of treatment of 95 patients with strabismus occurring after combined cerebral and orbital trauma. The results of MRI and MSCT are diagnostically and tactically significant. Chemodenervation and orthoptic methods of treatment increase efficiency of restoration of lost EOMs functions. The use of surgical techniques, a simpler in perform and with a lower degree of complications risk allows to achieve maximal results.
Plisov I.L., Batalova O.M.
BUPIVACAINE – NEW VIEW ON OCULOMOTORIUS PATHOLOGY TREATMENT. LITERARY REVIEW [№ 12 ' 2007]

Antsiferova N.G., Plisov I.L., Puzyrevsky K.G.
USING EFFECTIVENESS OF ELASTIC FRENEL PRISMS DURING TREATMENT OF MYOPIA [№ 13 ' 2004]

Plisov I.L., Atamanov V.V., Puzyrevsky K.G.
THE USING EXPIRIENCE OF INJECTION OF DISPORT PREPARATION IN EXTRAOCULAR MUSCLE DURING TREATMENT OF PARALYTIC STRABISMUS [№ 13 ' 2004]

Puzyrevsky K.G., Plisov I.L.
PECULIARITIES OF SURGICAL TREATMENT METHODS OF STRABISMUS WITH METHOD OF TENOSCLEROPLASTICS [№ 13 ' 2004]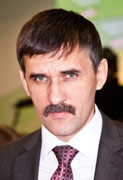 Editor-in-chief
Sergey Aleksandrovich
MIROSHNIKOV