Подача статей





Korotkov V.G., Popov V.P., Vasilevskaya S.P.
APPLICATION OF THE VECTOR OPTIMIZATION FOR SYNTHESIS AN EXTRUTION TECHNOLOGY OF THE BIOTECHNOLOGY FACILITIES
Multi-criteria methods (vector) optimization of the problem of the optimization of biotechnological process based on the processing of the semi products of plant raw material.
Key words:
the vector of optimization, synthesis technology, extrusion, biotechnology.
References:
1. Panfilov, V.A. Technological lines of edible productions (the production line theory). — М.: Kolos, 1993. — 288 p.
2. Polishchuk V.Yu., Korotkov V.G., Zubkova T.M. Designing of extruders for agrarian and industrial complex branches. — Ekaterinburg: UrO the Russian Academy of Sciences, 2003. — 201 p.
3. Zinyukhin, G.B. Design of the production technology bread-krupjanyh crackers with application of single-screw extruders: Autoref. dis. ... cand. tech. sci. — М.: MSYFI, 1996. — 24 p.
4. Popov, V.P. Razrabotka's Priests of the production technology of dry half-finished products of crackers with use of the cooking extruders: Autoref. dis. .... сand. tech. sci. — М.: MSYFI, 1995. — 24 p.
5. Bogatyrev A.N., Jurev V.P. Thermosoftening extrusion: scientific bases, technology, the equipment. — М.: Stupen, 1994. — 158 p.
6. Rudnev V.E., Volodin V.V., Luchanskij K.M., Petrov V.B. Formirovanie of technical objects on the basis of systems analysis. — М.: Mashinostroenie, 1991. — 318 p.
About this article
Authors:

Korotkov V.G., Popov V.P., Vasilevskaya S.P.



Year:

2012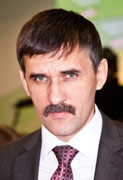 Editor-in-chief
Sergey Aleksandrovich
MIROSHNIKOV