Подача статей





Solopova V.A., Popov V.P., Sidorenko G.A., Zinyukhina A.G., Zinyukhin G.B., Vasilevskaya S.P.
STUDY OF A CHANGE OF ALIMENTARY PRODUCTS'FORMULATION AS AN IMPROVING FACTOR OF TECHNOLOGY'S SECURITY
On the basis of experimental study, we suggested a way of the replacement of the part of the flour for the pumpkin paste to not only improve the security of technology, but also to get a high quality product. We evaluated the physicochemical properties of pasta with the help of the developed complex index of quality; we carried out an assessment of organoleptic characteristics by the method of an expert assessment and determined the complex index of the quality of one of the production's stages.
Key words:
security, quality, pasta, analysis, expert assessment.
References:
1. Medvedev, G.M. Technology of pasta manufacturing. — M.: Kolos, 1999. — 272 p.
2. Chernov E.M., Medvedev G.M., Negrub V.P. Handbook of pasta production. — M.: The clothing and food Industry, 1984. — 320 p.
3. Popov, V.P. Designing of the process of drying pasta: a monograph / V.P. Popov, V.A. Gruzintseva. — Orenburg: SEI OSU, 2008. — 138 p.
4. Kovalskaya, L.P. Laboratory workshop on the general technology of food production / ed. L.P. Kovalskaya. — M.: Agropromizdat, 1991. — 336 p.
About this article
Authors:

Zinyuhin G.B., Zinyuhina A.G., Solopova V.A., Popov V.P., Sidorenko G.A., Vasilevskaya S.P.



Year:

2012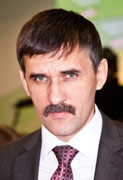 Editor-in-chief
Sergey Aleksandrovich
MIROSHNIKOV