Подача статей





Hadzharov M.H.
CAPITALISM, GLOBALISM AND RUSSIA: PROBLEM DEFINITION OF ITS PLACE IN THE WORLD OF CIVILIZATION (SOCIOLOGICAL ANALYSIS)
The article analyzes the social nature of capitalism and revealed the true nature of his anti-social. Politics of globalization is seen as a political ideology of capitalism, designed to meet the modern trends of the international community and to expand the geographical area of market relations and the capitalist system. He as a challenge and call of the times and the historical need for the integration of all countries and the establishment of a unified international community, globalism appears disguised as a realization of the strategic objectives of the West. In light of this trend, it is necessary problematization of Russia's place in the world civilization.
Key words:
capitalism, imperialism, globalization, integration, the international community, the crisis of social consciousness, social inequality, Russia, western civilization.
References:
1. Kefeli, A.F. The social nature of globalism // Perspectives of mankind in a globalized world. — St. Petersburg.: St. Petersburg Philosophical Society, 2003.
2. Delyagin, M.G. The crisis of humanity: whether Russia will survive in the non-Russian discord? — Moscow: AST: Astrel, 2010.
3. Chiesa, J. Farewell to Russia. — Moscow: Publishing House of the "Gaia", 1997.
4. Podberyozkin, A. Human Capital. T. 1. The ideology of advanced human development. — Moscow, publishers of "Europe", 2007.
5. Zinoviev, A.A. Globalization and Russia // Russia in the global world: a response to the challenge of the century. — Moscow: The whole world, 2001.
6. Inozemtsev V.L., Karaganov S.A., Nikonov V.A. Russia in the context of globalization. Points for discussion at the IX Assembly swap. — Moscow: Aspect Press, 2001.
7. Yurlov, F.N. The social costs of globalization // Molodezh. issled. — 2001. — №7.
8. Toynbee, A.D. Civilization before the court of history. — Moscow: Progress Publishers, 1995.
9. Troubetzkoy, H. Legacy of Genghis Khan. — M.: Publishing house Penguin Books, 1999.
About this article
Author:

Hadzharov M.H.



Year:

2012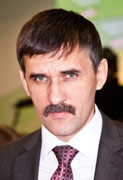 Editor-in-chief
Sergey Aleksandrovich
MIROSHNIKOV