Подача статей





Rusakova E.A., Lebedev S.V., Sipaylova O.Y., Kvan O.V., Kosyan D.B.
EFFECT OF PHYTASE ON MORPHOFUNCTIONAL STATE OF INTESTINAL OF BROILER CHICKENS AT DIFFERENT LEVELS OF PHOSPHORUS IN THE DIET
The paper presents results of experimental studies on the morphofunctional stateof the intestine of the experimental birds by using an enzyme preparation RonozimNT (CT) at different levels of phosphorus in the diet. Histological analysis ofintestine (thin section) confirms the positive effect of the drug Ronozim NT (CT) on the morphological characteristics of the mucosal relief of the small intestine of broiler chickens.
Key words:
small intestine, mucopolysaccharides, PAS-reaction, phytase, chickens, broilers, phosphorus, Ronozim NT (CT).
References:
1. Fisinin, V.I. Feeding poultry / V.I. Fisinin, I.A. Egorov, T.M. Okolelova [and others]. — Sergiev Posad: VNITIP, 2004. — 375 p.
2. Egorov, I.A. Phytase in vegetable compound feed for broilers / I.A. Egorov, E. Anchikov // Poultry. — 2007. — №4. — Р. 40–45.
3. Lebedev, S.V. Effect of enzyme preparations on the nutritional value of poultry products / S.V. Lebedev, E.P. Miroshnikova, O.V. Kwan, O. Kanavina // Trace Elements in Medicine. — 2004. — Issue 4. — Vol. 5. — Р. 88–89.
4. Rusakova, E.A. Effect of phytase on some blood biochemical parameters of broiler chickens / E.A. Rusakova, S.V. Lebedev, N.Y. Kopaneva // Bulletin of the Orenburg state university. — 2011. — №12 (131). — P. 421–423.
5. Pierce, E. Histochemistry theoretical and applied / E. Pearce. — Moscow: Univ. foreign. literature, 1962. — 962 p.
6. Merkulov, G.V. The course of histopathological techniques / G. Merkulov. — Moscow: Meditsina, 1969. — 424 p.
About this article
Authors:

Sipaylova O.Yu., Rusakova E.A., Lebedev S.V., Kvan O.V., Kosyan D.B.



Year:

2012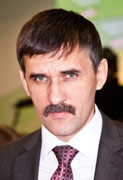 Editor-in-chief
Sergey Aleksandrovich
MIROSHNIKOV