Подача статей





Cheremushnikova I.I., Vitun E.V., Petrosienko E.S., Notova S.V.
THE POSSIBILITIES OF THE LUSHER TEST (8- COLOR VERSION) IN DIAGNOSTICS OF THE CHARACTEROLOGICAL AND BEHAVIORAL SPECIAL FEATURES OF STUDENTS WITH DIFFERENT LEVEL OF PHYSICAL TRAINING
The authors revealed diagnostic signs of emotional disturbances with the inspection of students with the aid of the color procedure give the possibility of the thinner and more timely recognition of the specific criteria of emotional disorders. The color Lusher test can be used as the means of the estimation of emotional dynamics in students by the force of the small effect of habituation. Possessing the ability of penetration into the peace of experiences, color procedure can be used for the adjusting of personal- emotional contact between the student, the instructor, the psychologist in the conditions of higher school.
Key words:
emotional disturbances, psychophysiological status, physical preparedness, psychoemotional stress, adaptation, the color Lusher test.
References:
1. Bazyma B.A., Kutko I.I. Colouring preferances of teenagers with peculiarities of character. // Jurnal nevrologii i psihiatrii im. S.S. Korsakova . — M., 1997. — Т.97. — №1. — P.24-28
2. Ber Urlrikh. What do colours mean? Rostov-na-Donu: Feniks, 1997. — 231P.
3. Mantrova I.N. Procedure manual by psychophysiological and psychological diagnostics. Ivanovo: OOO "Neirosoft", 2008. — 216 P.
4. Merlin V.S. Problems of experimental psychology of personality // Uchenye zapiski Permskogo gosudarstvennogo universiteta. — 1970. — Т.77. — №6 — P. 164-177.
5. Shiposh K. L. Significance of autogenuos training and biocontrol with feedback electric activity of brain in therapy of neurosis. // Avtoreferat kandidatskoi dissertacii. L., 1980.
About this article
Authors:

Cheryomushnikova I.I., Vitun E.V., Petrosienko E.S., Notova S.V.



Year:

2010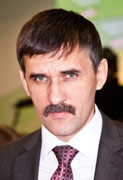 Editor-in-chief
Sergey Aleksandrovich
MIROSHNIKOV