Подача статей





Miroshnikov S.A., Burtseva T.I., Golubkina N.A., Notova S.V., Skalniy А.V., Burlutskaya О.I.
HYGIENIC ASSESSMENT OF SELENIUM STATUS OF THE ORENBURG REGION
The work provides an assessment of the selenium status of the Orenburg Region population. The mean selenium concentration in hairs of the Orenburg residents ranged 0.153 to 0.405 mg/kg. Monitoring of selenium concentrations in food products is therefore very important for characteristics of the selenium geographical distribution. The report provides data on selenium concentrations in curd and whole milk produced in 25 districts of Orenburg Oblast. The microelement concentrations in curd ranged 102 to 341 mkg/kg, whole milk – 23 to 48 mkg /l. The mean selenium concentration in dairy products was 140 mkg/kg (curd) and 30 mkg /l (whole milk) accordingly. Heterogeneous distribution of selenium in the Orenburg Oblast dairy products has been recorded with the maximum values for the Northwestern Part – 149 mkg/kg for curd and 29 mkg /l for milk.
About this article
Authors:

Burlutskaya O.I., Skalnyy A.V., Miroshnikov S.A., Burtseva T.I., Golubkina N.A., Notova S.V.



Year:

2008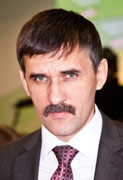 Editor-in-chief
Sergey Aleksandrovich
MIROSHNIKOV