Подача статей





Salnikova E.V., Osipova, E.A., Skalny A.V.,Burceva T.I., Boldyreva O.I.
EFFECTS OF EXPOSURE TO TRACE ELEMENTS OF BIOSPHERE ELEMENT STATUS OF HUMANABSTRACT [№ 10 ' 2013]
The article presents data on the content of lead, cadmium, copper and zinc in soils and biosubstrates (hair) of the population, as well as in food in some areas of the Orenburg region.
Rakhmatullin R. R., Burlutskaya O.I., Adelshin A.I., Burtseva T.I., Adelshina L.R.
DEVELOPMENT OF THE INNOVATIVE NANOSTRUCTURED BIOMATERIAL FOR AN OPHTHALMOSURGERY [№ 12 ' 2012]
Use of nanotechnologies for the purpose of creation of bioplastic materials, essentially new highly effective biomaterials allow to create meeting the requirements ophthtalmosurgery. High-efficiency of the created bioplastic material proves to be true by cells testing in vitro conditions.
Salnikova E.V., Burtseva T.I., Kudryavtseva E.A., Kustova A.S.
ENVIRONMENTAL ASSESSMENT OF ZINC IN ECOSYSTEMS (SOIL, WATER, FOOD) IN THE ORENBURG REGION [№ 6 ' 2012]
The paper presents data on the zinc content in soil, water and food produced in the territory of the Orenburg region.
Miroshnikov S.A., Burtseva T.I., Golubkina N.A., Notova S.V., Skalniy А.V., Burlutskaya О.I.
HYGIENIC ASSESSMENT OF SELENIUM STATUS OF THE ORENBURG REGION [№ 12 ' 2008]
The work provides an assessment of the selenium status of the Orenburg Region population. The mean selenium concentration in hairs of the Orenburg residents ranged 0.153 to 0.405 mg/kg. Monitoring of selenium concentrations in food products is therefore very important for characteristics of the selenium geographical distribution. The report provides data on selenium concentrations in curd and whole milk produced in 25 districts of Orenburg Oblast. The microelement concentrations in curd ranged 102 to 341 mkg/kg, whole milk – 23 to 48 mkg /l. The mean selenium concentration in dairy products was 140 mkg/kg (curd) and 30 mkg /l (whole milk) accordingly. Heterogeneous distribution of selenium in the Orenburg Oblast dairy products has been recorded with the maximum values for the Northwestern Part – 149 mkg/kg for curd and 29 mkg /l for milk.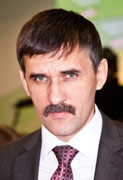 Editor-in-chief
Sergey Aleksandrovich
MIROSHNIKOV