Подача статей





Khusainova L.M.
ALPHABETES OF THE BASHKIRIAN LANGUAGE IN XIX — THE BEGINNING OF XX CENTURIES
At the present stage of development of the national languages, in the conditions of bilingualism and multilingualism, created on the basis of graphic Cyrillic alphabets are considered an objective necessity. In this case there are some difficulties in the transfer in writing the specific sounds of a national language Russian letters. In this regard, there is now a growing interest in the problems of development in Cyrillic alphabets. There is a need to study the history of development issues to identify existing problems, in particular, alphabets and alphabets of the Bashkir language in the Cyrillic alphabet. The article reviews the alphabets and alphabets of the Bashkir language, compiled in XIX — the beginning of XX centuries. Such researchers as V.V. Katarinsky, A.G. Bessonov, N.F. Katanov, who are not native speakers of the Bashkir language. They developed in different years 3 letters of the Bashkir language in Cyrillic, which they used when studying this language and teaching students in the Bashkir language. All the editions contain author's alphabets for the Bashkir language in Cyrillic. In the article, by means of a comparative analysis, specific features of the transmission of specific sounds of the Bashkir language were revealed when writing texts in the Bashkir language in XIX — the beginning of XX centuries. The author comes to the conclusion that at this stage of the Bashkir linguistics no need to amend the current alphabet, thus, for a more accurate transmission Bashkir sounding words in the letter, there is a need to improve some of the provisions of the rules of spelling and pronunciation with the new socio-cultural situation of modern Bashkir literary language as the state in the Republic of Bashkortostan.
Key words:
Key worlds: bashkir language, letter, writing, alphabet, abc, letters, sounds, specific sounds, graphemes.
References:
1. Baskakov, N.A. Problemy sovershenstvovaniya i unifikacii alfavitov tyurkskih narodov SSSR / N.A. Baskakov // Sovetskaya tyurkologiya i razvitie tyurkskih yazykov v SSSR: tezisy dokladov i soobshchenij. — Alma-Ata, 1976. — S. 14–16.
2. Bekchurin, M.-S. Nachal'noe rukovodstvo k izucheniyu arabskogo i tatarskogo yazykov s narechiyami buharcev, bashkir, kirgizov i zhitelej Turkestana s russko-persidsko-tatarskimi slovami, raspolozhennymi po predmetam, razgovorami i propisyami / M.-S. Bekchurin. — Kazan', 1869. — 159 s.
3. Bukvar' dlya bashkir. — Orenburg, 1892 (to zhe izd. 1898).
4. Galyautdinov, I.G. Dva veka bashkirskogo literaturnogo yazyka / I.G. Galyautdinov. — Ufa: Gilem, 2000.– 448 s.
5. Ishberdin, EH.F. Istoricheskoe razvitie leksiki bashkirskogo yazyka / EH.F. Ishberdin. — M.: Nauka, 1986. — 152 s.
6. Katarinskij, V.V. Bashkirsko-russkij slovar' / V.V. Katarinskij. — Orenburg, 1899. — 237 s.
7. Kononov, A.N. Istoriya izucheniya tyurkskih yazykov v Rossii: Dooktyabr'skij period. Izd. 2-e, dopol. i ispravl. / A.N. Kononov — L.: Nauka, Leningradskoe otdelenie, 1982. — 360 s.
8. Kulaev, M.S. Osnovy zvukoproiznosheniya i azbuka dlya bashkir / M.S. Kulaev. — Kazan', 1912. — S. 18-1.+2 ris. i azbuka (2 s.)
9. Tenishev, EH.R. Razmyshleniya ob alfavitah tyurkskih yazykov / EH.R. Tenishev // Trudy Mezhdunarodnoj konferencii: V 3-h t. —T.1: YAzyk, duhovnaya kul'tura i istoriya tyurkov: tradicii i svremennost'. — Kazan': IYALI, 1992. — S. 7–9.
10. Halikova, R.H. Eshche odna stranica iz nauchnogo naslediya N.F. Katanova / R.H. Halikova, R.Z. SHakurov // Sovetskaya tyurkologiya. — 1981. — №3. — S. 36–38.
11. Husainova, L.M. Bashkirskoe pis'mo / L.M. Husainova. — Sterlitamak, 2016. — 120 s.
12. Husainova, L.M. Sovremennoe bashkirskoe pis'mo na kirillice / L.M. Husainova // Nauchnoe mnenie. — 2014. — №10-1. — S. 100–103.
About this article
Author:

Husainova L.M.



Year:

2017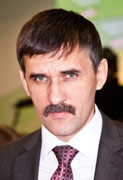 Editor-in-chief
Sergey Aleksandrovich
MIROSHNIKOV